---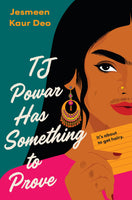 by Jesmeen Kaur Deo
Viking Books for Young Readers
06/07/2022, hardcover
SKU: 9780593403396
When TJ Powar -- a pretty, popular debater -- and her cousin Simran become the subject of a meme: with TJ being the "expectation" of dating an Indian girl and her Sikh cousin who does not remove her body hair being the "reality" -- TJ decides to take a stand.
She ditches her razors, cancels her waxing appointments, and sets a debate resolution for herself: "This House Believes That TJ Powar can be her hairy self, and still be beautiful." Only, as she sets about proving her point, she starts to seriously doubt anyone could care about her just the way she is -- even when the infuriating boy from a rival debate team seems determined to prove otherwise.
As her carefully crafted sense of self begins to crumble, TJ realizes that winning this debate may cost her far more than the space between her eyebrows. And that the hardest judge to convince of her arguments might just be herself.
Target age: 12 to 17
Reviews:
"TJ Powar Has Something To Prove is unlike any book I've read before. It's unflinchingly honest, real, and raw in its examination of body image. Every hairy brown girl will see a reflection of their lives in its page." -- Adiba Jaigirdar, author of Hani and Ishu's Guide to Fake Dating and The Henna Wars
"There's much to appreciate about this book... fans of school stories will enjoy the humor, romance, and fun characters who navigate lost relationships, friendships that endure, and reminders that some people will always have your back -- no matter how hairy it may be." -- Kirkus Reviews
About the Author:
Jesmeen Kaur Deo grew up in northern British Columbia, where she spent most of her childhood daydreaming. She loves books that can make her laugh and tug at her heartstrings in the same paragraph. When not wrapped up in stories, she can be found biking, playing the harmonium, or struggling to open jars. TJ Powar Has Something to Prove is her debut novel.