---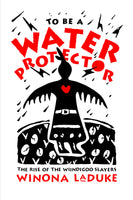 by Winona LaDuke
Fernwood Publishing
12/1/2020, paperback
SKU: 9781773632674
Winona LaDuke is a leader in cultural-based sustainable development strategies, renewable energy, sustainable food systems and Indigenous rights.
Her new book, To Be a Water Protector: Rise of the Wiindigoo Slayers, is an expansive, provocative engagement with issues that have been central to her many years of activism. LaDuke honours Mother Earth and her teachings while detailing global, Indigenous-led opposition to the enslavement and exploitation of the land and water. She discusses several elements of a New Green Economy and outlines the lessons we can take from activists outside the US and Canada. In her unique way of storytelling, Winona LaDuke is inspiring, always a teacher and an utterly fearless activist, writer and speaker.
About the Author:
A two-time Green Party vice presidential candidate, author of five books of nonfiction, one children's book and a novel, Winona LaDuke is one of the world's most tireless and charismatic leaders on issues related to climate change, Indigenous and human rights, green and rural economies, grass-roots organizing and restoring local food systems over a career spanning nearly forty years of activism.