---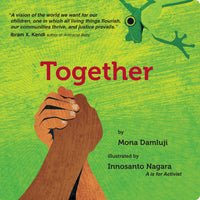 by Mona Damluji and Innosanto Nagara
Triangle Square
10/5/2021, board book
SKU: 9781644210840
A breathtakingly simple poem of universal experience shows us the transformative power of collective action.
In Together, social justice kids book pioneer Innosanto Nagara teams up with poet and activist Mona Damluji for a stunningly tender and pitch-perfect visual feast that juxtaposes individual action with the power of people acting together. Each of the ten free-verse couplets in the poem is spread across four pages of imagery, to make a unique and different kind of board book for young kids to discover with their families.
The first illustrated book in which Nagara applies his extraordinary visual imagination to words not his own, Together is simplicity itself--a poem about the transformational change that happens when people stop acting alone and start doing things together. Together is Nagara's third board book, following the immensely popular social justice board books A is for Activist and Counting on Community.
Target age: 3 to 5
Reviews:
"Together offers a vision of the world we want for our children, one in which all living things flourish, our communities thrive, and justice prevails." -- Ibram X. Kendi, author of Antiracist Baby and Stamped from the Beginning
"A stunningly beautiful book about unity and hope. Together belongs in every home and every classroom." -- Matt de la Peña, author of the Newbery Award-winning Last Stop on Market Street
About the Contributors:
Mona Damluji writes, studies and teaches about oil cultures, cinema history and the Middle East as an assistant professor at UC Santa Barbara. She is a co-producer of the Peabody and Emmy-nominated web series The Secret Life of Muslims, and has curated exhibits and events around the globe that feature path-breaking art, film, photography, and comics. Mona and her partner live in California with their two hilarious children. 
Innosanto Nagara is a children's book author, illustrator, graphic designer, and founder of the Design Action worker-owned cooperative design studio in Oakland. He lives in a co-housing community and teaches and trains martial arts at a collectively run dojo. He is the author of six books for children, the first of which, A is for Activist, available as A de Activista, is credited with starting the movement in social justice book publishing for children. His other books are Counting on Community, My Night in the Planetarium, The Wedding Portrait, M is for Movement, and Oh, the Things We're For!