---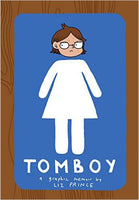 by Liz Prince
Zest Books
2014, paperback
SKU: 9781936976553
Growing up, Liz Prince wasn't a girly girl, dressing in pink tutus or playing Pretty Pretty princess like the other girls in her neighborhood. But she wasn't exactly one of the guys either, as she quickly learned when her Little League baseball coach exiled her to the outfield instead of letting her take the pitcher's mound. Liz was somewhere in the middle, and Tomboy is the story of her struggle to find the place where she belonged.
Tomboy is a graphic novel about refusing gender boundaries, yet unwittingly embracing gender stereotypes at the same time, and realizing later in life that you can be just as much of a girl in jeans and a T-shirt as you can in a pink tutu. A memoir told anecdotally, Tomboy follows author and zine artist Liz Prince through her early childhood into adulthood and explores her ever-evolving struggles and wishes regarding what it means to "be a girl." From staunchly refuting anything she perceived as being "girly" to the point of misogyny, to discovering through the punk community that your identity is whatever you make of it, regardless of your gender, Tomboy is as much humorous and honest as it is at points uncomfortable and heartbreaking.
About the Author:
Liz Prince's first book, Will You Still Love Me If I Wet the Bed?, was nominated for several awards and won the Ignatz Award for Outstanding Debut in 2005. Born in Boston, MA, she grew up in Santa Fe, NM, and has been drawing comics since the third grade. She has since produced many of her own comics and mini-comics, which mix her real-life foibles with charming cartooning and comic timing. Fans have described her work as being "cute," making them feel "warm and fuzzy," or simply being "too much information." She now lives outside of Boston and drinks more than her fair share of coffee.