---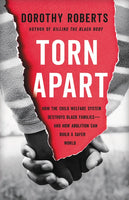 Sale
by Dorothy Roberts
Basic Books
4/5/2022, hardcover
SKU: 9781541675445
An award-winning scholar exposes the foundational racism of the  child welfare system and calls for radical change
Many believe the child welfare system protects children from abuse. But as Torn Apart uncovers, this system is designed to punish Black families. Drawing on decades of research, legal scholar and sociologist Dorothy Roberts reveals that the child welfare system is better understood as a "family policing system" that collaborates with law enforcement and prisons to oppress Black communities. Child protection investigations ensnare a majority of Black children, putting their families under intense state surveillance and regulation. Black children are disproportionately likely to be torn from their families and placed in foster care, driving many to juvenile detention and imprisonment.
The only way to stop the destruction caused by family policing, Torn Apart argues, is to abolish the child welfare system and liberate Black communities.
Reviews:
"Dorothy Roberts has brilliantly illuminated the Black experience in America for decades. Her new book on America's punitive child welfare system is a bold and critically important reimagining of how to better protect children. Her thesis on how the legacy of slavery and carceral systems have impacted Black families is rooted in decades of rigorous examination, research, and reflection. This is a compelling, thoughtful, and urgent work."-- Bryan Stevenson, author of Just Mercy
"Once again Dorothy Roberts offers us a bold, visionary critique of the contemporary institutional consequences of colonialism and slavery. Her penetrating analysis of the family policing system and its masquerade as child protective services not only persuades us that reforms alone will forever reinforce the system's racist and repressive foundations, it also compels us to imagine new modes of care and frameworks for abolitionist futures." -- Angela Y. Davis, author of Freedom Is a Constant Struggle
"This compelling narrative delivers data rich analysis that reflects decades of research, observation, and advocacy for Black children and mothers. It exposes the ugly demographics and politics of America's destructive family policing child welfare system...Necessary reading."-- Library Journal
About the Author:
Dorothy Roberts is the George A. Weiss University Professor of Law and Sociology at the University of Pennsylvania, where she directs the Penn Program on Race, Science, and Society. The author of four books, including Killing the Black Body, she lives in Philadelphia, Pennsylvania.