---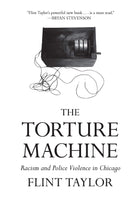 by Flint Taylor
Haymarket Books
11/17/2020, paperback
SKU: 9781642594690
With his colleagues at the People's Law Office (PLO), Taylor has argued landmark civil rights cases that have exposed corruption and cover-ups within the Chicago Police Department (CPD) and throughout the city's corrupt political machine.

The Torture Machine takes the reader from the 1969 murders of Black Panther Party chairman Fred Hampton and Panther Mark Clark--and the historic, thirteen-years of litigation that followed--through the dogged pursuit of commander Jon Burge, the leader of a torture ring within the CPD that used barbaric methods, including electric shock, to elicit false confessions from suspects.

Joining forces with community activists, torture survivors and their families, other lawyers, and local reporters, Taylor and the PLO gathered evidence from multiple cases to bring suit against the CPD officers and the City of Chicago. As the struggle expanded beyond the torture scandal to the ultimately successful campaign to end the death penalty in Illinois, and obtained reparations for many of the torture survivors, it set human rights precedents that have since been adopted across the United States. 
Reviews:
"This book is a powerful testament to their courage and determination and is essential reading for anyone wanting to understand what can happen when those in power condone violations of civil and constitutional rights for political expediency." --Mary E. Howell, Civil Rights Attorney

"A stunning, sweeping history of police violence in Chicago, and Flint Taylor's lifelong pursuit of racial justice. Quite literally the work of a lifetime." --Alison Flowers, Author of Exoneree Diaries: The Fight for Innocence, Independence, and Identity

"[A]n indispensable and searing account of the barbarous regime of policing under Jon Burge, and the ongoing fight for justice." --Martha Biondi, author of To Stand and Fight. James Thindwa, Labor Activist and Board Member, In These Times.

"[A]n unsparing dissection of foundational racism in the criminal justice system ... It could not be more timely." --Jaime Kalven, Investigative Reporter, Executive Director, Invisible Institute

"Each victim's case is a fascinating story in itself while the totality of the lawyers' efforts fighting a resistant establishment is staggering." --The Observer
About the Author:
Flint Taylor is a founding partner of the People's Law Office in Chicago. He was one of the lawyers who represented the families of slain Chicago Black Panthers Fred Hampton and Mark Clark in the landmark civil rights case against the Chicago police, the Cook County state's attorney, and the FBI's COINTELPRO agents. For more than thirty years he has represented numerous survivors of Chicago police torture in criminal and civil cases, as well as in seeking reparations. He was also co-counsel in the civil rights case brought by the victims of KKK and Nazi terror in Greensboro, North Carolina, in 1979. He is still actively fighting against, and writing about, systemic police violence and racial injustice as a senior partner at the PLO, which will celebrate its fiftieth anniversary in August 2019.