---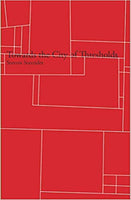 by Stavros Stavrides
Common Notions
9/3/2019, paperback
SKU: 9781942173090
In recent years, urban uprisings, insurrections, riots, and occupations have been an expression of the rage and desperation of our time. So too have they expressed the joy of reclaiming collective life and a different way of composing a common world. At the root of these rebellious moments lies the threshold--the spaces to be crossed from cities of domination and exploitation to a common world of liberation. A city of thresholds is characterized by sudden dehierarchizations of the territory, the suspension of time, and the playful emergence of hope in a through which dark energies penetrate or awaken, but sometimes hopeful.
Towards the City of Thresholds is a pioneering and ingenious study of these new forms of socialization and uses of space--self-managed and communal--that passionately reveals cities as the sites of manifest social antagonism as well as spatialities of emancipation. Activist and architect Stavros Stavrides describes the powerful reinvention of politics and social relations stirring everywhere in our urban world and analyzes the theoretical underpinnings present in these metropolitan spaces and how they might be bridged to expand the commons.
What is the emancipatory potential of the city in a time of crisis? What thresholds must be crossed for us to realize this potential? To answer these questions, Stavrides draws penetrating insight from the critical philosophies of Walter Benjamin, Michel Foucault, and Henri Lefebvre--among others--to challenge the despotism of the political and urban crises of our times and reveal the heterotopias immanent within them.
Reviews:
"Combining innovative theoretical arguments with the concrete spatial sensibility of an architect, Stavros Stavrides shows us how people are breaking down urban barriers and opening the city to new and exciting interactions. This book teaches us how to make the metropolis into a common space." --Michael Hardt, coauthor of Assembly and Commonwealth with Antonio Negri
"Through a careful reading of urban struggles and by putting social and urban theory in the service of the most profound questions of collective transformation, Stavros Stavrides demonstrates the 'spaces of possibility' present in our cities and our daily lives."--Silvia Federici, author of Caliban and the Witch and Revolution at Point Zero: Housework, Reproduction and Feminist Struggle
"In a sense, Towards the City of Thresholds has already crossed a threshold: the threshold between us sensing the emancipatory potential of cities and actually realizing this. Through these dark hours of counter-revolutionary waves crashing onto our cities and communities the world over, it is imperative to keep this message alive: that a common world of liberation is still within reach. Towards the City of Thresholds is a must-read." --Antonis Vradis, coauthor of New Borders: Migration, Hotspots and the European Superstate and Athens and the War on Public Space: Tracing a City in Crisis
"Grabbing back for the common the spaces taken by capital and the State, which aims to turn them into spaces of order for their various operations, is one of the main achievements of the social movements of the urban peripheries. Thus, they not only place limits on the accumulation of capital and power by the 1 percent, but they turn the territories of the common into territories in resistance, a process that Stravros Stavrides knows and analyzes in depth, from a view that places the tension for emancipation at the center of his reflections" --Raúl Zibechi, author of Dispersing Power: Social Movements as Anti-State Forces and Territories in Resistance: A Cartography of Latin American Social Movements
"Threshold spaces are like portals to new dimensions of sociality and doing, in which subjective experience in enriched by being part of a collective emergent process that pulverises hierarchies and restores joy and hope into the territory. In this insightful book, Stavros Stavides pushes us to think of the modern city as having many immanent heterotopic threshold spaces which could be bridged to expand the commons and challenge the despotism of late neoliberal urban crises. A must read for organizers, intellectuals, and revelers worldwide."--Massimo DeAngelis, author of Omnia Sunt Communia: On the Commons and the Transformation to Postcapitalism and Beginning of History: Value Struggles and Global Capital
Author:
Stavros Stavrides is an architect and professor teaching at the National Technical University of Athens on housing and public space design as well as on the meaning of metropolitan experience. Stavrides's work on political autonomy in contemporary crises-governed cities provides timely urban theory to theorize forms of emancipating spatial practices and urban commoning, illuminated by an experience and knowledge of protest and rebellion in Athens since 2008.