---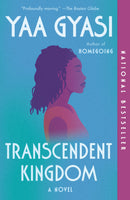 by Yaa Gyasi
Vintage
7/6/2021, paperback
SKU: 9781984899767
NATIONAL BESTSELLER - Yaa Gyasi's stunning follow-up to her acclaimed novel Homegoing is a book of blazing brilliance (The Washington Post)--a powerful, raw, intimate, deeply layered novel about a Ghanaian family in Alabama.
Gifty is a sixth-year PhD candidate in neuroscience at the Stanford University School of Medicine studying reward-seeking behavior in mice and the neural circuits of depression and addiction. Her brother, Nana, was a gifted high school athlete who died of a heroin overdose after an ankle injury left him hooked on OxyContin. Her suicidal mother is living in her bed.
Gifty is determined to discover the scientific basis for the suffering she sees all around her. But even as she turns to the hard sciences to unlock the mystery of her family's loss, she finds herself hungering for her childhood faith and grappling with the evangelical church in which she was raised, whose promise of salvation remains as tantalizing as it is elusive.
Reviews:
"Transcendent Kingdom trades the blazing brilliance of Homegoing for another type of glory, more granular and difficult to name." -The New York Times Book Review
"Yaa Gyasi's profoundly moving second novel takes place in the vast, fragile landscape where the mysteries of God and the certainties of science collide. Through deliberate and precise prose, the book becomes an expansive meditation on grief, religion, and family." -The Boston Globe
"An evocative portrayal of the immigrant experience and an astutely written character study of an individual reconciling with her past, along with her struggle with faith and science." -Chicago Review of Books
"Haunting. . . . Astute and timely. . . . [A] meditation on life's big themes of love and loss, and one woman's quest to understand the human condition as she grapples with both." -The Women's Review of Books
About the Author:
Yaa Gyasi was born in Ghana and raised in Huntsville, Alabama. Her debut novel, Homegoing, won her the National Book Critics Circle's John Leonard Award for best first book, the PEN/Hemingway Award for a first book of fiction, the National Book Foundation's "5 under 35" honors for 2016, and the American Book Award. She lives in Brooklyn.