---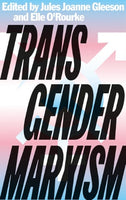 Edited by Jules Joanne Gleeson and Elle O'Rourke
Pluto Press
5/20/2021, paperback
SKU: 9780745341668
Transgender Marxism is the first volume of its kind, offering a provocative and groundbreaking synthesis of transgender studies and Marxist theory. Reflecting on the relations between gender and labor, it shows how these linked phenomena structure antagonisms in particular social and historical situations. While no one is spared gendered conditioning, the contributors argue that transgender people nonetheless face particular pressures, oppressions and state persecution. The collection makes a particular contribution to Marxist feminism and social reproduction theory, through both personal and analytic examinations of the social activity demanded of trans people around the world. Exploring trans lives and movements through a Marxist lens, the book also assesses the particular experience of surviving as trans in light of the totality of gendered experience under capitalism. Twinning Marxism with other schools of thought - including psychoanalysis, phenomenology and Butlerian performativity - Transgender Marxism ultimately offers an insight into transgender experience, and an exciting renewal of Marxist theory itself.
Reviews:
"Stunning ... trans becomes in these pages the vibrant event of a historical materialism from below, intimate and urgent" -Jules Gill-Peterson, author of Histories of the Transgender Child
"Powerful ... with stunning sophistication and insights, 'Transgender Marxism' challenges capitalism's social foundations in gendered patterns of property, work, and entitlement to develop new forms of sociality beyond the family and its dyadic sexual division." -Petrus Liu, author of Queer Marxism in Two Chinas
"Brilliant, thoughtfully researched, and compelling. An immense contribution to the trans liberation struggle and to trans studies scholarship" -Dean Spade, Associate Professor of Law at Seattle University School of Law
"Is there a transgender Marxism? This pioneering collection shows that the answer is there are many - inspired by psychoanalysis, union organizing, queer communities, Black struggles and more. Material realities matter, tremendously, in trans lives; and trans experiences can change our thinking about both capitalism and liberation" -Raewyn Connell, author of Gender: In World Perspective

About the Editors:
Jules Joanne Gleeson is a writer, comedian and historian. She has published essays in outlets including Viewpoint Magazine, Invert Journal and VICE, and performed internationally at a wide range of communist and queer cultural events.
Elle O'Rourke is a political economist and gender theorist currently researching critical theories of financialisation. She is co-founder of New Socialist, a magazine of left thought and commentary, where she serves as economics co-editor.