---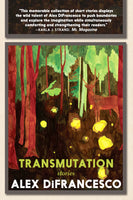 by Alex DiFrancesco
Seven Stories Press
6/22/2021, paperback
SKU:  9781644210666
Transgressive, transformative short stories that explore the margins of trans lives.
Building on the success of All City, here is a wry, and at the same time dark and risk-taking, story collection from author (and baker) Alex DiFrancesco that pushes the boundaries of transgender awareness and filial bonds. Here is the hate between 16-year-old Junie, who is transitioning, and their mom's boyfriend Chad when the family moves into Chad's house on Lake Erie. And here is the love being tested between Sawyer and his dad, who named his boat after his child and resists changing it from Sara to Sawyer now. There is DiFrancesco's willingness to enter lands that are violent and comfortless in some of these stories, testing the limits of what it means to be human, sometimes returning stronger and wiser and sometimes not returning at all as their characters surge forward into unknown spaces.
DiFrancesco's first novel All City (Seven Stories 2019) was praised by Publishers Weekly as a loving, grieving warning [that] thoughtfully traces the resilience, fragility, and joy of precarious communities in an immediate, compassionate voice. All City was one of BookRiot's Best Post-Apocalyptic Books of 2019, Entropy Mag's Best of 2019, and Largehearted Boy's Favorite Novels of 2019. It was a finalist for the 2019 Ohioana Book Award for Fiction.
Reviews:
"Alex DiFrancesco's eclectic, absorbing first collection, Transmutation, captures moments of in-betweenness (often fraught, sometimes magical) that may be especially familiar to transgender people who are not legible, temporarily or purposefully, to others or themselves... Within these direct, straightforward stories are corridors of solitude and reflection... Unlike with the cool remove of, say, Rachel Cusk's fiction, DiFrancesco clearly is not afraid to err on the side of sentimentality... At the affective core of "Transmutation" is the question of how we can offer shelter for one another's pain, real and imagined." --Patrick Cottrell, The New York Times Book Review
"Whether injecting lake water into their leg to conjure a swamp thing, using a reusable metal straw to suck up the air around an irrelevant professor, or dealing with the health concerns specific to vampires, the characters in Transmutation are tender and real. The presence of fantastical elements is part of the magic of these 10 stories, which are linked thematically by the changeable nature of the body. DiFranceso's alchemy is that every story reveals someone who is realizing a new version of themselves." --Wendy J. Fox, Buzzfeed
About the Author:

Alex DiFrancesco is the author of All City (Seven Stories Press 2019). They have also published fiction in The Carolina Quarterly, The New Ohio Review, and Monkeybicycle. They are a winner of Sundress Academy for the Arts' 2017 OutSpoken contest for LGBTQ+ writing. DiFrancesco's non-fiction has appeared in The Washington Post, Tin House, Longreads, Brevity, and was a finalist in Cosmonauts Avenue's inaugural non-fiction prize. Their storytelling has been featured at the Fringe Festival, Life of the Law, the Queens Book Festival, and The Heart podcast. DiFrancesco is also a skilled bread baker and pastry cook, a passionate activist and advocate, and has a small, wonderful cat named Sylvia Rivera-Katz.