---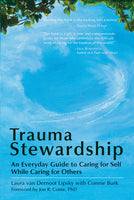 by Laura van Dernoot Lipsky with Connie Burk
Berrett-Koehler Publishers
5/4/2009, paperback
SKU: 9781576759448
This beloved bestseller--over 180,000 copies sold--has helped caregivers worldwide keep themselves emotionally, psychologically, spiritually, and physically healthy in the face of the sometimes overwhelming traumas they confront every day.
A longtime trauma worker, Laura van Dernoot Lipsky offers a deep and empathetic survey of the often-unrecognized toll taken on those working to make the world a better place. We may feel tired, cynical, or numb or like we can never do enough. These, and other symptoms, affect us individually and collectively, sapping the energy and effectiveness we so desperately need if we are to benefit humankind, other living things, and the planet itself
In Trauma Stewardship, we are called to meet these challenges in an intentional way. Lipsky offers a variety of simple and profound practices, drawn from modern psychology and a range of spiritual traditions, that enable us to look carefully at our reactions and motivations and discover new sources of energy and renewal. She includes interviews with successful trauma stewards from different walks of life and even uses New Yorker cartoons to illustrate her points.
"We can do meaningful work in a way that works for us and for those we serve," Lipsky writes. "Taking care of ourselves while taking care of others allows us to contribute to our societies with such impact that we will leave a legacy informed by our deepest wisdom and greatest gifts instead of burdened by our struggles and despair.
Reviews:
"Having been an attorney for only two years, I was both surprised and relieved to recognize many signs of secondary trauma in myself. Surprised because I had never been able to acknowledge the impact of my work as a public defender in such a way; relieved for the very same reason. I have come to rely on this book as a means to help me bear the weight of what can feel like inexorable human tragedy. It is only through the practices articulated and encouraged in Trauma Stewardship that my spirit remains intact. Each person I represent is better served for my having used this book. I recommend it to every public interest attorney and law student." -- Elizabeth Latimer, public defense attorney, Brooklyn Defender Services
"Laura is a weaver. She takes the harsh yet resilient fibers that are the stories of trauma survivors and workers, including her own, threads them together with common-sense advice, and creates a warm and soft blanket that comforts and protects. It is an important book because it reminds you to care for yourself as you care for others and then offers practical tools for doing so. I wish I'd had this book when I first began my work with women and children experiencing domestic violence!" -- Gretchen Test, Program Associate for Child Welfare, Annie E. Casey Foundation
About the Contributors:
Laura van Dernoot Lipsky is a trauma social worker and educator.
Connie Burk is the executive director of the Northwest Network of Bisexual, Trans, Lesbian and Gay Survivors of Abuse.