---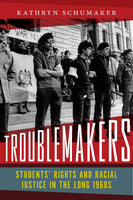 by Kathryn Schumaker
NYU Press
1/9/2023, paperback
SKU: 9781479820498
A powerful history of student protests and student rights during the desegregation era
In the late 1960s, protests led by students roiled high schools across the country. As school desegregation finally took place on a wide scale, students of color were particularly vocal in contesting the racial discrimination they saw in school policies and practices. And yet, these young people had no legal right to express dissent at school. It was not until 1969 that the Supreme Court would recognize the First Amendment rights of students in the landmark Tinker v. Des Moines case.
A series of students' rights lawsuits in the desegregation era challenged everything from school curricula to disciplinary policies. But in casting students as "troublemakers" or as "culturally deficient," school authorities and other experts persuaded the courts to set limits on rights protections that made students of color disproportionately vulnerable to suspension and expulsion.
Troublemakers traces the history of black and Chicano student protests from small-town Mississippi to metropolitan Denver and beyond, showcasing the stories of individual protesters and demonstrating how their actions contributed to the eventual recognition of the constitutional rights of all students. Offering a fresh interpretation of this pivotal era, Troublemakers shows that when black and Chicano teenagers challenged racial discrimination in American public schools, they helped remake American constitutional law and establish protections of free speech, due process, equal protection, and privacy for students.
Reviews:
"Those who associate student protest only with institutions of higher education will find this work enlightening. Schumaker makes a compelling case that from the late 1960s through the early 1980s, high school students in several states were instrumental in redefining students' constitutional rights. Using the "lens of race," she focuses on how these protests propelled racial reform in different school systems." -- Choice
About the Author:
Kathryn Schumaker is Edith Kinney Gaylord Presidential Professor and Associate Professor of History at the University of Oklahoma.