---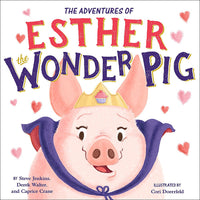 by Steve Jenkins, Derek Walter, and Caprice Crane, illustrated by Cori Doerrfeld 
Little, Brown Books for Young
03/06/2018, hardcover
SKU: 9780316554763
The true story of social media sensation Esther the Wonder Pig and her two dads that inspired the New York Times bestselling memoir for adults is now available in a picture book with adorable illustrations and a message of love. 
When Steve and Derek adopted a mini pig named Esther, they had no idea that she would turn out to be not-so-mini after all. When her new family saw just how big and wonderful Esther really was, they fell in love -- and their lives changed forever. Esther would soon grow too large for her bed, and their small apartment. She got into everything, including her neighbor's tasty garden. So the whole family moved from a small apartment to a big farm, where Esther and her animal friends could fit happily (and get into a little less mischief). Eventually, that farm would become the Happily Esther After animal sanctuary, home to rescued animals of all kinds.
Target age: 6 to 9
Reviews:
"Told with self-effacing humor and a sense of wonder at what life can bring, Esther is the story of the transformative power of love between people and animals and how the decision to try to make a difference on a personal level can effect positive change far beyond anything that might have been imagined." -- Larry Levin, New York Times bestselling author of Oogy: The Dog Only a Family Could Love
"Young readers are sure to fall in love with Esther just like her dads did." -- School Library Journal
About the Contributors:
Steve Jenkins and Derek Walter are among the world's most popular and successful animal activists. They founded the Happily Ever Esther Farm Sanctuary in 2014 in Ontario, Canada where they continue to rescue abandoned and abused animals. Their memoir Esther the Wonder Pig was a New York Times bestseller, and this is their first picture book. You can visit them, along with Esther and the rest of her family, at estherthewonderpig.com!
Caprice Crane is an award-winning, New York Times bestselling, five-time novelist, screenwriter, and television writer. Her humor and satirical observations have earned her a loyal social media following and the distinction as one of The Huffington Post's 50 Funny People You Should Be Following on Twitter. Her passion is animal rescue, and in 2014 she founded a 501c3 non-profit called Gauze for Paws.
Cori Doerrfeld grew up with dogs, cats, gerbils, hamsters, fish, and a rabbit, but has yet to own a pig. She has illustrated many children's books including a board book series with Elise Broach. Cori is also the author and illustrator of Matilda in the Middle, Penny Loves Pink and the upcoming The Rabbit Listened, and Good Dog. She lives in Minneapolis, Minnesota, with her family and rescue dog, Rufus.