---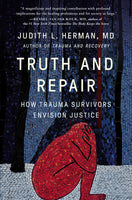 by Judith Lewis Herman
Basic Books
3/14/2023, hardcover
SKU: 9781541600546
From one of America's most influential psychiatrists, a powerful manifesto for reimagining justice, based on the testimony of trauma survivors
The #MeToo movement brought worldwide attention to sexual violence, but while the media focused on the fates of a few notorious predators who were put on trial, we heard far less about the outcomes of those trials for the survivors of their abuse.
The conventional retributive process fails to serve most survivors; it was never designed for them. Renowned trauma expert Judith L. Herman argues that the first step toward a better form of justice is simply to ask survivors what would make things as right as possible for them. In Truth and Repair, she commits the radical act of listening to survivors. Recounting their stories, she offers an alternative vision of justice as healing for survivors and their communities.
Deeply researched and compassionately told, Truth and Repair envisions a new path to justice for all.
Reviews:
"Through masterful storytelling, Judith Herman charts the course from trauma to justice and compels us to follow it. An inspiring and practical call to action, Truth and Repair celebrates survivors' wisdom and their power to heal themselves and the world we live in." -- Anita Hill
"Herman's earlier studies of abuse of women and children recast our understanding of trauma. Now, in Truth and Repair, she comes full circle in describing how initially powerless victims can, through innovative social arrangements, achieve hard-won survivor justice. In the process, we learn much about what justice really means for traumatized people. Herman's perspective is deeply humane and grounded in historical and political reality. Her work stands alone in its arc and originality." -- Robert Jay Lifton, MD, Columbia University
"For thirty years, every single book written about the impact of trauma has stood on the shoulders of Herman's groundbreaking book Trauma and Recovery. Now, thirty years later, we receive a bookend to that masterpiece, examining how survivors of gender-based violence seek justice and healing. Truth and Repair is a deeply researched and thought-provoking book offering hope and healing for victims of violence, many of whom have felt betrayed, ignored, or retraumatized by existing larger societal institutions." -- Michelle Bowdler, author of Is Rape a Crime?

About the Author:
Judith L. Herman, MD, is a professor of psychiatry at Harvard Medical School. She was the recipient of the Lifetime Achievement Award from the International Society for Traumatic Stress Studies and is a distinguished life fellow of the American Psychiatric Association.