---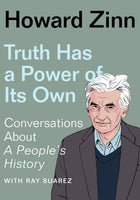 by Howard Zinn, with Ray Suarez
The New Press
8/2/2022, paperback
SKU: 9781620977316
Truth Has a Power of Its Own is an engrossing collection of conversations with the late Howard Zinn and "an eloquently hopeful introduction for those who haven't yet encountered Zinn's work" (Booklist). Here is an unvarnished, yet ultimately optimistic, tour of American history—told by someone who was often an active participant in it.
Viewed through the lens of Zinn's own life as a soldier, historian, and activist and using his paradigm-shifting A People's History of the United States as a point of departure, these conversations explore the American Revolution, the Civil War, the labor battles of the nineteenth and twentieth centuries, U.S. imperialism from the Indian Wars to the War on Terrorism, World Wars I and II, the Cold War, and the fight for equality and immigrant rights—all from an unapologetically radical standpoint. Longtime admirers and a new generation of readers alike will be fascinated to learn about Zinn's thought processes, rationale, motivations, and approach to his now-iconic historical work.
Zinn's humane (and often humorous) voice—along with his keen moral vision—shine through every one of these lively and thought-provoking conversations. Battles over the telling of our history still rage across the country, and there's no better person to tell it than Howard Zinn.
Reviews:
"No historian—and few public figures—have ever made radical politics as deliriously and deliciously attractive as Howard Zinn. These conversations with Ray Suarez resurrect Howard for a new generation, including those youth who are fed up with politics as usual. Buy it for the young rabble rouser in your life. As Howard liked to say, 'We must know our history not only to have knowledge of the past, but to change the future.'" —Dave Zirin, author of A People's History of Sports in the United States and sports editor, The Nation
"Truth Has a Power of Its Own is a virtual epilogue to Zinn's classic work, A People's History of the United States, and it eloquently shows that Zinn's mission was not to demonstrate our exceptionalism or our superiority. Instead, he urges us to look squarely at our stained past for the glimmers of human decency and courage which so often have welled up among the ordinary people historians too often ignore." —Frances Fox Piven, distinguished professor of political science emerita, The Graduate Center, City University of New York, author of Poor People's Movements
About the Author:
Howard Zinn (1922-2010) was a historian, playwright, and activist and the author of the bestselling A People's History of the United States, as well as Truth Has a Power of Its Own: Conversations About A People's History (The New Press). He received the Lannan Literary Award for nonfiction and the Eugene V. Debs Award for his writing and political activism.