---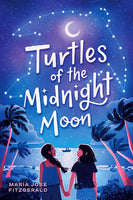 by María José Fitzgerald
Alfred A. Knopf Books for Young Readers
3/14/2023, hardcover
SKU: 9780593488706
When poachers threaten the island they love, two girls team up to save the turtles--and each other. An eco-mystery with an unforgettable friendship story at its heart from a fresh new voice in middle grade.
Twelve-year-old Barana lives in a coastal village in Honduras, where she spends every spare minute visiting the sea turtles that nest on the beach.
Abby is feeling adrift in sixth grade, trying to figure out who she is and where she belongs after her best friend moved away from New Jersey.
When Abby's papi plans a work trip to Honduras, she is finally given the opportunity to see his homeland--with Barana as her tour guide. But Barana has other plans: someone has been poaching turtle eggs, and she's determined to catch them! Before long, Abby and Barana are both consumed by the mystery, chasing down suspects, gathering clues, and staking out the beach in the dead of night... Will they find a way to stop the poachers before it's too late?
A heart-pounding mystery with a hint of magic, María José Fitzgerald's debut novel explores the power of friendship, community, and compassion to unite all living creatures.
Target age: 8 to 12
Reviews:
"Fitzgerald's page-turning debut, a contemporary eco-mystery with a touch of magical realism, explores timely themes of friendship and identity while tracing two girls' heartwarming bond." -- Publishers Weekly
"[A] heartwarming tale of activism, art, and identity." -- Booklist
"A character-driven mystery in which the setting pops out." -- Kirkus Reviews
"This story will have wide appeal, reaching tweens interested in mysteries, the environment, and ocean life." -- School Library Journal
About the Author:
María José Fitzgerald is a former teacher and current writer of children's books. Her favorite stories usually include animals, friendship, family, and magic. She grew up snorkeling and hiking in her homeland of Honduras, where nature and culture nourished her soul. When she's not writing, you can find her reading, walking her dogs, or maybe out on a family mountain-bike ride.