---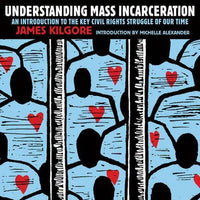 by James Kilgore
New Press
2015, paperback
SKU: 9781620970676
We all know that orange is the new black and mass incarceration is the new Jim Crow, but how much do we actually know about the structure, goals, and impact of our criminal justice system?
Understanding Mass Incarceration offers the first comprehensive overview of the incarceration apparatus put in place by the world s largest jailer: the United States.
Drawing on a growing body of academic and professional work, Understanding Mass Incarceration describes in plain English the many competing theories of criminal justice from rehabilitation to retribution, from restorative justice to justice reinvestment. In a lively and accessible style, author James Kilgore illuminates the difference between prisons and jails, probation and parole, laying out key concepts and policies such as the War on Drugs, broken windows policing, three-strikes sentencing, the school-to-prison pipeline, recidivism, and prison privatization. Informed by the crucial lenses of race and gender, he addresses issues typically omitted from the discussion: the rapidly increasing incarceration of women, Latinos, and transgender people; the growing imprisonment of immigrants; and the devastating impact of mass incarceration on communities.
Both field guide and primer, Understanding Mass Incarceration will be an essential resource for those engaged in criminal justice activism as well as those new to the subject.
Reviews:
"[A] graphically pleasing, very readable, emotionally and intellectually engaging work. It is concise, fairly complete, and quite convincing in its presentation of the facts surround the inhumane and socially destructive policy of mass incarceration." --"Counterpunch"
"James Kilgore is one of my favorite commentators regarding the phenomenon of mass incarceration and the necessity of pursuing truly transformative change. Understanding Mass Incarceration provides an excellent, much-needed introduction to the racial, political, and economic dimensions of mass incarceration, as well as a brilliant overview of the competing schools of thought regarding what must be done to end it." --Michelle Alexander, author of The New Jim Crow
"Useful for anyone with a horse in the race regarding law enforcement - in other words, most American citizens." --"Kirkus Reviews"
About the Author:
James Kilgore is a formerly incarcerated person who currently teaches in the Center for African Studies at the University of Illinois. He is the author of a number of novels and an educational text about Zimbabwe. He lives with his family in Champaign, Illinois.