---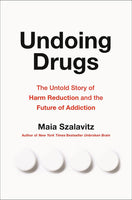 by Maia Szalavitz
Hachette Go

8/23/2022, paperback

SKU: 9780738285740
Drug overdoses now kill more Americans annually than guns, cars, or breast cancer. But the United States has tried to solve this national crisis with policies that only made matters worse. In the name of "sending the right message," we have maximized the spread of infectious disease, torn families apart, incarcerated millions of mostly Black and Brown people--and utterly failed to either prevent addiction or make effective treatment for it widely available.
There is another way--one that is proven to work. However it runs counter to much of the received wisdom about substances and related problems. It is called harm reduction. Created by a group of people who use drugs and by radical public health experts, harm reduction offers a new way of thinking--one that provides startling insights into behavioral and cultural issues that go far beyond drugs.
In a spellbinding narrative rooted in an urgent call to action, Undoing Drugs tells the untold tale of a quirky political movement that has unexpectedly shaken the foundations of world drug policy. It illustrates how hard it can be to take on widely accepted conventional thinking--and what is necessary to overcome this resistance. Ultimately, Undoing Drugs offers a path forward--led by characters who spent many years being dismissed as worthless, only to develop a breakthrough philosophy that can dramatically improve world health.
Reviews:
"One of the most inspiring and remarkable stories you will ever read. Small groups of stigmatized people all over the world pioneered a totally new approach to drugs and addiction--and they saved millions of lives. Their incredible story has not been told--until now . If everyone in the US read this book, the drug war and so many drug myths would end tomorrow."-- Johann Hari, New York Times bestselling author of Chasing The Scream
"Maia Szalavitz is one of the bravest, smartest writers about addiction anywhere. Everything she writes should be read carefully--I guarantee you'll have a lot to think about, and you'll know far more than at the start."-- Johann Hari, New York Times bestselling author of Chasing the Scream
"Maia Szalavitz is one of our most incisive thinkers about neuroscience in general and addiction in particular and her writing is astonishingly clear and compelling. In the timely, important, and insightful Unbroken Brain, Szalavitz seamlessly interweaves her moving personal story with her investigation into what addiction is (and isn't) and how we can most effectively prevent and treat it."--David Sheff, New York Times bestselling author of Clean and Beautiful Boy
About the Author:
Maia Szalavitz is the author or coauthor of eight books, including the bestseller Unbroken Brain and the classic on child trauma, The Boy Who Was Raised as a Dog, which she wrote with Bruce D. Perry. She has written for the New York Times, the Washington Post, Scientific American, the Atlantic, TIME, The Guardian, and VICE.