---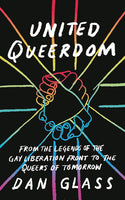 by Dan Glass
Bloomsbury Publishing
9/1/2020, paperback
SKU: 9781786998767
Throughout the 1970s the Gay Liberation Front (GLF) initiated an anarchic campaign that permanently changed the face of Britain. Inspired by the Stonewall uprisings in the US, the GLF demanded a 'Absolute Freedom For All' worldwide. Yet half a century on, injustice is rife and LGBT+ inequality remains. Complete LGBT+ liberation means housing rights, universal healthcare, economic freedom and so much more. Although many people believe queers are now free and should behave, assimilate and become palatable – Dan Glass shows that the fight is far from over.

United Queerdom evocatively captures over five decades of LGBT+ culture and protest from the GLF to 2020s. Showing how central protest is to queer history and identity this book uncovers the back-breaking hard work as well as the glamorous and raucous stories of those who rebelled against injustice and became founders in the story of queer liberation.
About the Author:
Dan Glass is an award-winning activist, mentor, performer and writer. He uses music, performance and protest to catalyse love, soul, revolution, and justice in communities confronting injustice. Glass is an educator from Training for Transformation. Glass has been named one of Attitude Magazine's campaigning role models for LGBT youth, GaydarRadio Heroes Awards for Gay Rights activism and a Guardian "UK youth climate leader" for famously superglueing the Prime Minister. Glass was named Activist of the Year at the 2017 Sexual Freedom Awards for contributions to sex-positive, queer, healthcare, and human rights movements for social justice.