---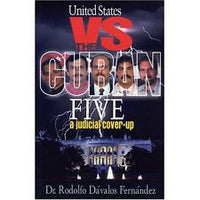 by Rodolfo Davalos Fernandez
Pathfinder Press
2006, 2011
SKU: 9789592113749
Gerardo Hernández, Ramón Labañino, René González, Fernando González, and Antonio Guerrero, five Cuban revolutionaries living in the United States were convicted in U.S. federal court in Miami in 2001 on trumped-up charges of "conspiracy to act as unregistered foreign agents," "conspiracy to commit espionage," and in, one case (Gerardo Hernández), "conspiracy to commit murder." They were sentenced to harsh terms ranging 15 years to double life plus 15 years in federal prison.
Their "crime"? Keeping the government of Cuba informed of the activities of counter-revolutionary terrorist groups in Miami whose unbroken record of violent attacks on Cuba and supporters of the Cuban Revolution begins in the 1960s and continues to this day.
In United States vs. the Cuban Five, Cuban jurist Rodolfo Dávalos Fernández reviews every aspect of the U.S. government's prosecution of the five men in the light of U.S. and international law, legal tradition and procedures. Expanded second edition incorporates developments in the case through the resentencing of Antonio Guerrero, Ramón Labañino, and Fernando González in late 2010.