---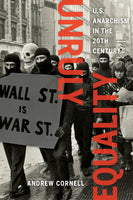 by Andrew Cornell
University of California Press
1/13/2016, paperback
SKU: 9780520286757
The first intellectual and social history of American anarchist thought and activism across the twentieth century

In this highly accessible history of anarchism in the United States, Andrew Cornell reveals an astounding continuity and development across the century. Far from fading away, anarchists dealt with major events such as the rise of Communism, the New Deal, atomic warfare, the black freedom struggle, and a succession of artistic avant-gardes stretching from 1915 to 1975.

Unruly Equality traces U.S. anarchism as it evolved from the creed of poor immigrants militantly opposed to capitalism early in the twentieth century to one that today sees resurgent appeal among middle-class youth and foregrounds political activism around ecology, feminism, and opposition to cultural alienation.
Reviews:
"Unruly Equality is history for movement builders. In recovering the captivating story of twentieth-century U.S. anarchism, Cornell provides crucial insights into the development of direct democracy, non-hierarchy, prefiguration, and other concepts animating contemporary global movements. Highly readable and theoretically sharp, this book is a vital tool for world changers and scholars alike." -- Marina A. Sitrin, author of Everyday Revolutions: Horizontalism and Autonomy in Argentina
About the Author:
Andrew Cornell is an educator and organizer who has taught at Williams College, Haverford College, and Université Stendhal-Grenoble 3. He is the author of Oppose and Propose! Lessons from Movement for a New Society (AK Press).