---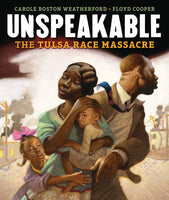 by Carole Boston Weatherford, Illustrated by Floyd Cooper
Carolrhoda Books
2/2/2021, hardcover
SKU: 9781541581203
Celebrated author Carole Boston Weatherford and illustrator Floyd Cooper provide a powerful look at the Tulsa Race Massacre, one of the worst incidents of racial violence in our nation's history. The book traces the history of African Americans in Tulsa's Greenwood district and chronicles the devastation that occurred in 1921 when a white mob attacked the Black community.

News of what happened was largely suppressed, and no official investigation occurred for seventy-five years. This picture book sensitively introduces young readers to this tragedy and concludes with a call for a better future.
Target age: 8-12
Reviews:
A somber, well-executed addition to the history as the incident approaches its 100th anniversary.-Kirkus Reviews
About the Contributors:
Carole Boston Weatherford is the author of numerous award-winning books. When she's not traveling or visiting museums, Carole is mining the past for family stories, fading traditions, and forgotten struggles. She lives in North Carolina.
Floyd Cooper is a Coretta Scott King Award winner and illustrator of numerous books for children including Ruth and the Green Book, A Spy Called James, and Unspeakable. He received a degree in fine arts from the University of Oklahoma, and currently lives in Easton, Pennsylvania with his wife and two sons.