---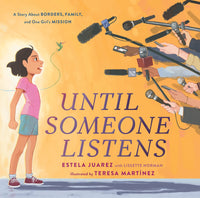 by Estela Juarez and Lissette Norman, Illustrated by Teresa Martinez
Roaring Brook Press
9/13/2022, hardcover
SKU: 9781250832122
When Estela Juarez's mom is deported to Mexico, Estela knows she has to speak up for her family. Told in Estela's own words, Until Someone Listens is a true story about a young girl finding her voice and using it to make change.
Estela's family lives together in a happy home full of love. Or, at least, they used to... until their home was torn apart.
My mom had to go back,
to the other side of the river,
because she wasn't born in this country.
For years her family fought and fought for permission for her to stay in the U.S. But no one listened. When Estela was eight, her mother was deported to Mexico.
Estela knew she had to do something. So she wrote letters: to local newspapers, Congress, the President, and anyone else who could help. She wrote and wrote and wrote until, finally... someone listened.
In this heart wrenching, autobiographical story, Estela Juarez's letters take her from the local news all the way to the national stage, where she discovers the power in her words and pledges to keep using her voice until her family--and others like hers-- are together again.
Target age: 4 to 8
Reviews:
"An inspirational and heartfelt story that will resonate with young activists." --Kirkus
"A humanizing--and necessarily upsetting--glimpse into immigration policies and the power of speaking out; share judiciously and with supplementary discussion." -- School Library Journal
"[A] moving autobiography." -- Publisher's Weekly
About the Contributors:
Estela Juarez was 8 years old when her mother, Alejandra, was deported to Mexico. It was then that Estela transformed her love of writing in her diary into writing letters to her local newspaper, to Congress, and to the president. The momentum built, and her Congressman decided to step in to help. Estela's story was featured at the 2020 Democratic National Convention, inspiring the whole country. In 2021, her mother received temporary permission to return to her family. Nowadays, Estela still loves writing in her diary. She also enjoys making her family laugh, reading books from the library, going for long walks with her mom and dad, Cuauhtemoc, near their home in Florida, and hanging out with her big sister Pamela. Estela hopes to one day become an immigration lawyer and a Congresswoman to advocate for the unification of separated families.
Lissette Norman lives in New York City. My Feet Are Laughing is her first book.
Teresa Martinez grew up in a small town north of Mexico, playing in the river, walking with the cows, and feeding the neighbor's pigs. When her family decided to move to a bigger city, she became very shy, but drawing helped her connect with other children. Later, Teresa studied Graphic Design and learned traditional painting techniques in Italy. Today, she lives in Puerto Vallarta, happily drawing for kids as she did during her school days. Her books include The Little Girl with the Big Voice and The Halloween Tree.