---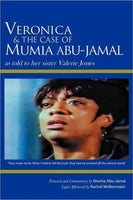 by Valerie Jones
Xlibris
2012
SKU: 9781477154359
Sometimes raw, always vivid and forthright, this is the life story of Veronica Jones, a witness in the murder trial of political prisoner Mumia Abu-Jamal. She saw two other men run from the scene of the shooting death of police officer Daniel Faulkner and she was a witness for Mumia's innocence. Unbeknownst to anyone but her younger sister, Veronica's life was also entwined with Faulkner's.
Before she could testify, police detectives threatened her with 10-15 years in prison and separation from her young children if she did not falsely name Mumia as the shooter. At Mumia's trial she recanted her original and true witness statement and denied that she saw anyone run from the scene. This gave the prosecution evidence for conviction.
In 1996 when Veronica courageously came forward to redeem herself and correct a fourteen year old lie, notorious Judge Albert Sabo, "king of death row," and the prosecution retaliated and had her handcuffed and arrested off the witness stand!
With intimidation tactics like this in an open courtroom, one can only imagine what happens behind closed doors....
This story of a courageous woman also contains a Forward and Commentary by Mumia Abu-Jamal and a Legal Afterword by attorney Rachel Wolkenstein on the legal significance of Veronica's testimony.