---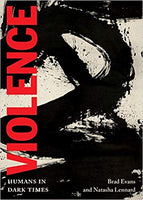 by Brad Evans and Natasha Lennard
City Lights
12/4/2018, paperback
SKU: 9780872867543
Through a series of penetrating conversations originally published in the New York Times and the Los Angeles Review of Books, Brad Evans and Natasha Lennard talk with a wide range of cutting edge thinkers--including Oliver Stone, Henry A. Giroux, Simon Critchley, and Elaine Scarry--to explore the problem of violence in everyday life, politics, culture, media, language, memory, and the environment. "To bring out the best of us," writes Evans, "we have to confront the worst of what humans are capable of doing to one another. In short, there is a need to confront the intolerable realities of violence in this world."
These lively, in-depth exchanges among historians, theorists, and artists offer a timely and bracing look at how the increasing expression and acceptance of violence--in all strata of society--has become a defining feature of our times.
About the Authors:
Natasha Lennard is a journalist, essayist, and columnist. She is a contributing writer for The Intercept and her work has appeared regularly in The Nation, Esquire, The New York Times, and The New Inquiry, among others. She teaches critical journalism at the New School For Social Research in New York. Her second book, Being Numerous: Essays on Non-Fascist Life, will be published by Verso, May 2019.
Brad Evans is a political philosopher, critical theorist and writer, whose work specializes on the problem of violence. He is the author of some ten books and edited volumes, along with over fifty academic and media articles, including Disposable Futures. He serves as Professor of Political Violence & Aesthetics at the University of Bath, UK. He is currently the lead editor for a dedicated section on violence and the arts/critical theory with The Los Angeles Review of Books. He also continues to direct the online resources centre www.historiesofviolence.com.