---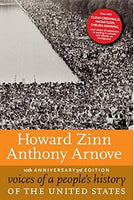 by Howard Zinn and Anthony Arnove
Seven Stories Press
2014
SKU: 9781609805920
Here in their own words are Frederick Douglass, George Jackson, Chief Joseph, Martin Luther King Jr., Plough Jogger, Sacco and Vanzetti, Patti Smith, Bruce Springsteen, Mark Twain, and Malcolm X, to name just a few of the hundreds of voices that appear in Voices of a People's History of the United States, edited by Howard Zinn and Anthony Arnove.
Paralleling the twenty-four chapters of Zinn's A People's History of the United States, Voices of a People's History is the long-awaited companion volume to the national bestseller. For Voices, Zinn and Arnove have selected testimonies to living history—speeches, letters, poems, songs—left by the people who make history happen but who usually are left out of history books—women, workers, nonwhites. Zinn has written short introductions to the texts, which range in length from letters or poems of less than a page to entire speeches and essays that run several pages. Voices of a People's History is a symphony of our nations original voices, rich in ideas and actions, the embodiment of the power of civil disobedience and dissent wherein lies our nations true spirit of defiance and resilience.
Reviews:
"Is history then an art or a science and is it really possible to say what happened in the past without a bias? What is the nature of historiography in a post-modernist world? Should history abandon the search for objective truth about the past? Is it not important that it is time that history came to terms with its own processes of production? Voices of a People's History of the United States, a companion book to Zinn's previous bestseller A People's History of the United States, is a significant answer to these questions." —Chandigarh Sunday Times
"Voices should be on every bookshelf. [It presents] the rich tradition of struggle in the United States, from the resistance to the conquest of the Americas in the era of Columbus through the protests today of soldiers and their families against the brutal invasion and occupation of Iraq." —Arundhati Roy
"In Voices, Howard Zinn has given us our true story, the ongoing, not-so-secret narrative of race and class in America." —Russell Banks
"Gut-wrenching." —Jon Stewart
Howard Zinn (1922-2010) influenced a generation with his ideas on politics and history, most importantly that "you can't be neutral on a moving train"—that is, that history has no bystanders, only participants.
Anthony Arnove is the author of Iraq: The Logic of Withdrawal, editor of Iraq Under Siege and The Essential Chomsky, and coauthor, with Howard Zinn, of Voices of a People's History of the United States and Terrorism and War. He is the codirector of The People Speak with Chris Moore and Howard Zinn.