---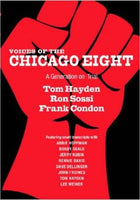 by Ron Sossi and Frank Condon
City Lights Books
2008, paperback
SKU: 9780872864955
Transcripts from the explosive trial are paired with historic contextual writings to provide the "Essential Chicago Conspiracy Handbook."
This title includes the complete play 'The Chicago Conspiracy Trial' by Ron Sossi and Frank Condon, with dramatic courtroom transcripts featuring Abbie Hoffman, Bobby Seale, Jerry Rubin and Allen Ginsberg, along with an introduction and three additional essays by Tom Hayden.
About the Authors:
Frank Condon has directed all five of the professional productions of 'The Chicago Conspiracy Trial' to date, including the original production at the Odyssey Theatre in Los Angeles. That production garnered him Los Angeles Drama Critic's Circle Awards for both directing and playwriting.
Ron Sossi, Artistic Director of the ODYSSEY THEATRE ENSEMBLE, received a BA in Theatre from the University of Michigan where he won the Avery Hopwood Playwriting Award, and an MA in Film from UCLA, where he was awarded the Samuel Goldwyn Creative Writing Award.
Tom Hayden social activist, legislator, educator, and speaker-is the author of The Port Huron Statement, long considered the founding document of the Sixties movement. He is the author of more than 15 books including, most recently, Voices of the Chicago 8: A Generation on Trial (2008) and Writings for a Democratic Society: The Tom Hayden Reader (2008). He writes for "The Nation" and many other magazines.