---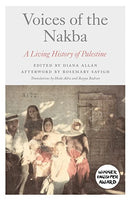 Edited by Diana Allen
09/20/2021, paperback
Pluto Press
SKU: 9780745342917
Winner of an English PEN Award 2021
During the 1948 war more than 750,000 Palestinian Arabs fled or were violently expelled from their homes by Zionist militias. The legacy of the Nakba - which translates to 'disaster' or 'catastrophe' - lays bare the violence of the ongoing Palestinian plight.
Voices of the Nakba collects the stories of first-generation Palestinian refugees in Lebanon, documenting a watershed moment in the history of the modern Middle East through the voices of the people who lived through it.
The interviews, with commentary from leading scholars of Palestine and the Middle East, offer a vivid journey into the history, politics and culture of Palestine, defining Palestinian popular memory on its own terms in all its plurality and complexity.
Reviews:
"The stories gathered here are the fruit of perseverant gathering. Their careful, deliberate, loving translation bears the sense and sensualities of Palestinian existence. Voices of the Nabka shows how and why those who will not forget will never be forgotten." -- Fred Moten

About the Editor:
Diana Allan is Assistant Professor at McGill University. She is a filmmaker and the co-founder of the Nakba Archive. Her ethnography, Refugees of the Revolution: Experiences of Palestinian Exile, (Stanford University Press, 2013) won the MEMO Palestine academic book award and the American Anthropological Association, Middle East Section Award.