---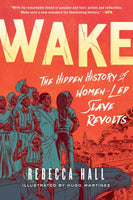 by Rebecca Hall, Illustrated by Hugo Martinez
Simon & Schuster
6/21/2022, paperback
SKU:  9781982115197
Part graphic novel, part memoir, Wake is an imaginative tour-de-force that tells the story of women-led slave revolts and chronicles scholar Rebecca Hall's efforts to uncover the truth about these women warriors who, until now, have been left out of the historical record.
Women warriors planned and led slave revolts on slave ships during the Middle Passage. They fought their enslavers throughout the Americas. And then they were erased from history.
Wake tells the story of Dr. Rebecca Hall, a historian, granddaughter of slaves, and a woman haunted by the legacy of slavery. The accepted history of slave revolts has always told her that enslaved women took a back seat. But Rebecca decides to look deeper, and her journey takes her through old court records, slave ship captain's logs, crumbling correspondence, and even the forensic evidence from the bones of enslaved women from the "negro burying ground" uncovered in Manhattan. She finds women warriors everywhere.
Using in-depth archival research and a measured use of historical imagination, Rebecca constructs the likely pasts of Adono and Alele, women rebels who fought for freedom during the Middle Passage, as well as the stories of women who led slave revolts in Colonial New York. We also follow Rebecca's own story as the legacy of slavery shapes life, both during her time as a successful attorney and later as a historian seeking the past that haunts her.
Illustrated beautifully in black and white, Wake will take its place alongside classics of the graphic novel genre, like Marjane Satrapi's Persepolis and Art Spiegelman's Maus. The story of both a personal and national legacy, it is a powerful reminder that while the past is gone, we still live in its wake.
Reviews:
"Powerful.... Wake is operating in the wake of slavery, and in a state of being awake to the past, a process Hall frames as both devastating and grounding." --New York Times Book Review
"Hall's eloquence and frank emotionalism are transcendently realized in Martínez art, beckoning the reader inexorably into this story -- even the parts that only take place inside Hall's mind. With its remarkable blend of passion and fact, action and reflection, Wake sets a new standard for illustrating history." -- NPR
About the Contributors:
Rebecca Hall, JD, PhD, is a scholar, activist, and educator. After graduating Berkeley Law in 1989, she represented low-income tenants and homeless families for eight years before returning to get her PhD in history. She has taught at UC Santa Cruz, Berkeley Law, Berkeley's history department, and as a visiting professor of law at the University of Utah. She writes and publishes on the history of race, gender, law, and resistance as well as articles on climate justice and intersectional feminist theory. Rebecca has been an activist her entire life, fighting for women's and LGBT rights and against nuclear weapons, Apartheid, and US militarism. She is dedicated to the movement for Climate Justice, and is also currently involved with Black Lives Matter and rapid response support for families facing deportation. She is also working on a collection of essays on the history of "racialized gender" in developing chattel slavery in America, and how this shapes our constructs of race and gender to this day. Dr. Hall's work has been supported by numerous grants and fellowships, including the American Association of University Women, The Ford Foundation, The Mellon Foundation, and the Woodrow Wilson Foundation. You can find out more about her at RebHallPhD.org.
Hugo Martínez is an independent comic artist focused on depicting narratives of struggle, identity, and resilience. He is based in New Orleans.