---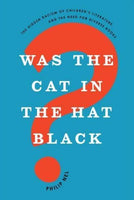 by Phillip Nel
Oxford University Press (USA)
3/29/2019, paperback
SKU:  9780190932879
Racism is resilient, duplicitous, and endlessly adaptable, so it is no surprise that America is again in a period of civil rights activism. A significant reason racism endures is because it is structural: it's embedded in culture and in institutions. One of the places that racism hides-and thus perhaps the best place to oppose it-is books for young people.
Was the Cat in the Hat Black? presents five serious critiques of the history and current state of children's literature tempestuous relationship with both implicit and explicit forms of racism. The book fearlessly examines topics both vivid-such as The Cat in the Hat's roots in blackface minstrelsy-and more opaque, like how the children's book industry can perpetuate structural racism via whitewashed covers even while making efforts to increase diversity. Rooted in research yet written with a lively, crackling touch, Nel delves into years of literary criticism and recent sociological data in order to show a better way forward. Though much of what is proposed here could be endlessly argued, the knowledge that what we learn in childhood imparts both subtle and explicit lessons about whose lives matter is not debatable. The text concludes with a short and stark proposal of actions everyone-reader, author, publisher, scholar, citizen- can take to fight the biases and prejudices that infect children's literature. While Was the Cat in the Hat Black? does not assume it has all the answers to such a deeply systemic problem, its audacity should stimulate discussion and activism.
Reviews:
"Like a detective working a literary crime scene, Nel patiently builds his case by piecing together clues and evidence in well-known stories from Dr. Seuss, and in the current young adult fiction renaissance. Nel uses such terms as invisible, covert, hidden, absence and erasure more than 70 times, by my count, to describe systemic racism's clandestine modus operandi." --John Murawski, News and Observer
"In this powerful, deeply-researched, accessible study, Nel exposes the racial power of children's literature. A rousing call to consciousness and action, Was the Cat in the Hat
Black? shows how children's literature [can] help build an anti-racist future. This book should be required reading for everyone-scholars, librarians, teachers, authors, readers, and more-who cares about children's literature." --Robin Bernstein, Harvard University
About the Author:
Philip Nel is University Distinguished Professor of English at Kansas State University. His many books include Crockett Johnson and Ruth Krauss: How an Unlikely Couple Found Love, Dodged the FBI, and Transformed Children's Literature (UP Mississippi, 2012), Tales for Little Rebels: A Collection of Radical Children's Literature (NYU Press, 2008, co-edited with Julia Mickenberg), The Annotated Cat: Under the Hats of Seuss and His Cats (Random House, 2007), and Dr. Seuss: American Icon (Continuum, 2004).