---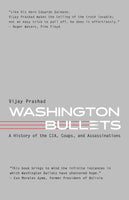 by Vijay Prashad
Monthly Review Press
9/22/2020, paperback
SKU: 9781583679067
Essays on acts of US imperialism, from the 1953 Iran coup to the 2019 ouster of Evo Morales

Washington Bullets is written in the best traditions of Marxist journalism and history-writing. It is a book of fluent and readable stories, full of detail about US imperialism, but never letting the minutiae obscure the larger political point. It is a book that could easily have been a song of despair--a lament of lost causes; it is, after all, a roll call of butchers and assassins; of plots against people's movements and governments; of the assassinations of socialists, Marxists, communists all over the Third World by the country where liberty is a statue.
Despite all this, Washington Bullets is a book about possibilities, about hope, about genuine heroes. One such is Thomas Sankara of Burkina Faso--also assassinated--who said: 'You cannot carry out fundamental change without a certain amount of madness. In this case, it comes from nonconformity, the courage to turn your back on the old formulas, the courage to invent the future. It took the madmen of yesterday for us to be able to act with extreme clarity today. I want to be one of those madmen. We must dare to invent the future.'
Washington Bullets is a book infused with this madness, the madness that dares to invent the future.
Reviews:
"This book brings to mind the infinite instances in which Washington Bullets have shattered hope." --Evo Morales Ayma, former President of Bolivia
"Like his hero Eduardo Galeano, Vijay Prashad makes the telling of the truth lovable; not an easy trick to pull off, he does it effortlessly." --Roger Waters, Pink Floyd
About the Author:
Vijay Prashad is the Executive Director of Tricontinental: Institute for Social Research. He is the author or editor of several books, including The Darker Nations: A Biography of the Short-Lived Third World, and The Poorer Nations: A Possible History of the Global South. His most recent book is Red Star Over the Third World. He writes regularly for Frontline, The Hindu, Alternet, and BirGun. He is Chief Editor at LeftWord Books