---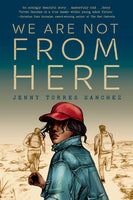 by Jenny Torres Sanchez
Philomel Books
5/19/2020, hardcover
SKU: 9781984812261
A poignant novel of desperation, escape, and survival across the U.S.-Mexico border, inspired by current events.
Pulga has his dreams.
Chico has his grief.
Pequeña has her pride.
And these three teens have one another. But none of them have illusions about the town they've grown up in and the dangers that surround them. Even with the love of family, threats lurk around every corner. And when those threats become all too real, the trio knows they have no choice but to run: from their country, from their families, from their beloved home.
Crossing from Guatemala through Mexico, they follow the route of La Bestia, the perilous train system that might deliver them to a better life--if they are lucky enough to survive the journey. With nothing but the bags on their backs and desperation drumming through their hearts, Pulga, Chico, and Pequeña know there is no turning back, despite the unknown that awaits them. And the darkness that seems to follow wherever they go.
In this striking portrait of lives torn apart, the plight of migrants at the U.S. southern border is brought to light through poignant, vivid storytelling. An epic journey of danger, resilience, heartache, and hope.
Target age: 14 to 17
Reviews:
With poignant, exhausting lyricism and heart wrenching poetic prose, Jenny Torres Sanchez digs deep and shows us the throbbing, aching corazón--the hopeful, unbreakable spirit of the embattled immigrant. A book for the starving, lost soul. --Guadalupe García McCall, Pura Belpré Award-winning author of Under the Mesquite
Gripping, poignant...this soul-shaking narrative [recalls] the works of Gabriel García Márquez. -- Booklist
About the Author:
Jenny Torres Sanchez (www.jennytorressanchez.com) is a full-time writer and former English teacher. She was born in Brooklyn, New York, but has lived on the border of two worlds her whole life. She is the author of We Are Not From Here; The Fall of Innocence; Because of the Sun; Death, Dickinson, and the Demented Life of Frenchie Garcia; and The Downside of Being Charlie. She lives in Orlando, Florida, with her husband and children.