---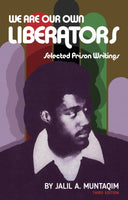 by Jalil Muntaqim
Black Dragon Multimedia Management Enterprise

2022, paperback

SKU: 9780578379005
Consisting of more than 36 years of the prison writings of Jalil Muntaqim, this collection represents some of the significant contributions he has made to the Black Liberation and New Afrikan Independence Movements.

About the Author:
A veteran member of the Black Panther Party and the Black Liberation Army, Jalil A. Muntaqim was imprisoned by the United States government in 1971 and not released until 2020. He was one of the longest held political prisoners in the world, having spent nearly 50 years in prison. Jalil has remained a staunch opponent of white supremacy and capitalist-imperialism, and as a human rights advocate was instrumental in organizing the International Tribunal 2021, that on October 25, 2021, found the United States corporate government guilty on five charges of Genocides against Black, Brown and Indigenous people.
Jalil is an author, poet, teacher and revolutionary organizer.