---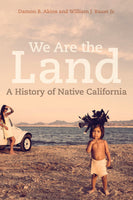 by William J. Bauer, Jr. and Damon B. Akins
University of California Press
03/29/2022, paperback
SKU: 9780520280502
Rewriting the history of California as Indigenous.
Before there was such a thing as "California," there were the People and the Land. Manifest Destiny, the Gold Rush, and settler colonial society drew maps, displaced Indigenous People, and reshaped the land, but they did not make California. Rather, the lives and legacies of the people native to the land shaped the creation of California. We Are the Land is the first and most comprehensive text of its kind, centering the long history of California around the lives and legacies of the Indigenous people who shaped it. Beginning with the ethnogenesis of California Indians, We Are the Land recounts the centrality of the Native presence from before European colonization through statehood -- paying particularly close attention to the persistence and activism of California Indians in the late twentieth and early twenty-first centuries. The book deftly contextualizes the first encounters with Europeans, Spanish missions, Mexican secularization, the devastation of the Gold Rush and statehood, genocide, efforts to reclaim land, and the organization and activism for sovereignty that built today's casino economy. A text designed to fill the glaring need for an accessible overview of California Indian history, We Are the Land will be a core resource in a variety of classroom settings, as well as for casual readers and policymakers interested in a history that centers the native experience.
Reviews:
"The stories Atkins and Bauer gather in this survey are about the Natives themselves, offering a compassionate reading of a people who have, even in some of the best revisionist studies, remained the 'other' on the periphery. The details and voices of California Indians' lives that the authors amplify from oral histories, primary documents, and secondary sources draw out the drama and recast the history of the 31st state from the perspectives of its First Peoples." -- The Nation
"This book is a must-read for anyone interested in California history. Bauer and Akins have produced a powerful and richly narrated history of the Indigenous experience from time immemorial to the present. From cover to cover, this book values Indigenous voices and knowledge systems to produce an incredibly engaging story of our collective past. We are the Land is high narrative and scholarship at its best!" -- Kent Blansett, author of A Journey to Freedom: Richard Oakes, Alcatraz, and the Red Power Movement
About the Authors:
William J. Bauer, Jr. is an enrolled citizen of the Round Valley Indian Tribes and Professor of History at the University of Nevada, Las Vegas.
Damon B. Akins is Professor of History at Guilford College, in Greensboro, North Carolina, and a former high school teacher in Los Angeles.