---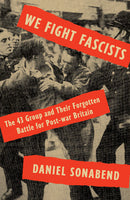 by Daniel Sonabend
Verso Books
5/11/2021, paperback
SKU: 9781788733250
The extraordinary story of the Jewish ex-servicemen fighting fascism in post-war Britain 
Returning to civilian life, at the close of the Second World War, a group of Jewish veterans discovered that, for all their effort and sacrifice, their fight was not yet done. Creeping back onto the streets were Britain's homegrown fascists, directed from the shadows by Sir Oswald Mosley. Horrified that the authorities refused to act, forty-three Jewish exservicemen and women resolved to take matters into their own hands. In 1946, they founded the 43 Group and let it be known that they were willing to stop the far-right resurgence by any means necessary. 
Their numbers quickly swelled. Joining the battlehardened ex-servicemen in smashing up fascist meetings were younger Jews, including hairdresser Vidal Sassoon, and gentiles as well, some of whom volunteered to infiltrate fascist organisations. The Group published its own newspaper, conducted covert operations, and was able to muster a powerful force of hundreds of fighters who quickly turned fascist street meetings into mass brawls. The struggle peaked in the summer of 1947 with the Battle of Ridley Road, where thousands descended on the Hackney market to participate in weekly riots. 
The history of the 43 Group is not just a gripping story of a forgotten moment in Britain's post-war history; it is also a timely lesson in how to confront fascism--and how to win.

Reviews:

"A great reminder of a post-war resistance to fascism amongst Jewish Londoners. It's a little-known story as it tends to get hidden behind the pre-war appearance of Oswald Mosley and the British Union of Fascists but, as we read here, Mosley wasn't finished with his Jew-baiting. My own grandparents lived two hundred yards from the scene of action of most of this book and reading it brought it all to life for me." -Michael Rosen, author of So They Call You Pisher! 
"Brilliant, compelling and very timely. This is the sort of history we should all know about, especially in these troubled times, but were never taught at school." -Keith Lowe, author of The Fear and the Freedom
"Inspiring ... the fundamental questions it raises have yet to disappear from our political landscape." -Daniel Trilling, Guardian
"A new, comprehensive history of the group." -Economist
About the Author:
Daniel Sonabend is a writer and historian who lives in London. He studied for his MPhil in Political Thought and Intellectual History at Cambridge University. For the past six years he has been researching the 43 Group and working to share its story. This is his first book.