---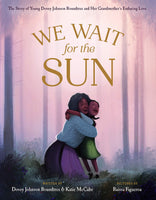 by Katie McCabe, Raissa Figueroa
Roaring Brook Press
2/9/2021, hardcover
SKU: 9781250229021
A beautiful and uplifting non-fiction picture book from Katie McCabe and trailblazing civil rights lawyer and activist Dovey Johnson Roundtree, We Wait for the Sun.

In the hour before dawn, Dovey Mae and Grandma Rachel step into the cool, damp night on a secret mission: to find the sweetest, ripest blackberries that grow deep in the woods.
But the nighttime holds a thousand sounds--and a thousand shadows--and Dovey Mae is frightened of the dark. But with the fierce and fearless Grandma Rachel at her side, the woods turn magical, and berry picking becomes an enchanting adventure that ends with the beauty and power of the sunrise.
A cherished memory from Dovey Johnson Roundtree's childhood, this magical experience speaks to the joy that pulsed through her life, even under the shadow of Jim Crow. With Grandma Rachel's lessons as her guiding light, Dovey Mae would go on to become a trailblazer of the civil rights movement--fighting for justice and equality in the military, the courtroom, and the church. With warm, vibrant illustrations from Raissa Figueroa, We Wait for the Sun is a resonant, beautiful story told through one exquisite page turn after another.
Reviews:
"[I]nfused with the warm satisfaction many children experience (or wish they could experience) in the company of a favorite relative, for whose attention and affection they--at least temporarily--don't need to compete." -- The Bulletin of the Center for Children's Books (BCCB)
This is a poignant glimpse into the childhood of a storied civil rights luminary, simultaneously serving as a testament to the love between caretaker and child and a soothing, nature-based meditation. -- Publishers Weekly
About the Contributors:
Katie McCabe is a freelance writer whose work has appeared in the Washingtonian Magazine, Baltimore Magazine, and Reader's Digest, among others. Her National Magazine Award-winning article on black medical legend Vivien Thomas was the basis for the HBO film Something the Lord Made, winner of three Emmys and a 2005 Peabody award.
Raissa Figueroa is a children's book illustrator and overall art lover based out of San Diego, California. She loves taking early morning walks through her neighborhood to greet the sun before it rises with her dog, Ghost, to gather inspiration from the beauty of nature that surrounds us. She is also the illustrator of Sophie and the Little Star, written by Amber Hendricks.