---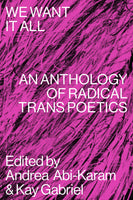 Edited by Andrea Abi-Karam and Kay Gabriel
Nightboat Books
11/24/2020, paperback
SKU: 9781643620336
Editors Andrea Abi-Karam and Kay Gabriel offer We Want it All: An Anthology of Radical Trans Poetics as an experiment into how far literature, written from an identitarian standpoint, can go as a fellow traveler with social movements and revolutionary demands. Writing in dialogue with emancipatory political movements, the intergenerational writers assembled here imagine an altogether overturned world in poems that pursue the particular and multiple trans relationships to desire, embodiment, housing, sex, ecology, history, pop culture, and the working day.
Reviews:
"'shit, what the hell/ have I built, ' writes Zavé Gayatri Martohardjono in a poem featured in this exciting and frank anthology of works by trans writers...This anthology imagines poetry as a resource by which the community might stand 'against capital and empire, ' using language to reimagine collective struggle."--Publishers Weekly
"Groundbreaking and urgent, this collection features poems that investigate, interrogate and innovate trans relationships, embodiments, ecologies, emotions and expressions. It shines a much-needed light on the power of poetics in care, understanding and resistance." --Karla Strand, Ms. Magazine
About the Contributors:
Andrea Abi-Karam is an arab-american genderqueer punk poet-performer cyborg, writing on the art of killing bros, the intricacies of cyborg bodies, trauma & delayed healing. Their chapbook, THE AFTERMATH (Commune Editions), attempts to queer Fanon's vision of how poetry fails to inspire revolution. Andrea's first book, EXTRATRANSMISSION (Kelsey Street Press, 2019), is a poetic critique of the U.S. military's role in the War on Terror.
Kay Gabriel is a poet and essayist. She's the author of Elegy Department Spring / Candy Sonnets 1 (BOAAT Press, 2017), the recipient of fellowships from Lambda Literary and the Poetry Project, and recently completed her PhD at Princeton University.