---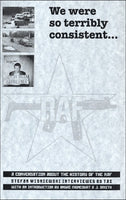 by Stefan Wisniewski
Translation and Introduction by André Moncourt and J. Smith
Kersplebedeb
2009
SKU: 1894946081
The Red Army Faction was an underground revolutionary organization devoted to carrying out armed attacks within the Federal Republic of Germany, with a view to establishing a tradition of illegal, guerilla resistance to imperialism and state repression. Stefan Wisniewski joined the guerilla shortly after the death of prisoner Holger Meins during a RAF hunger strike in 1974. By 1977, Wisniewski was participating in a campaign of attacks that would shake German society to its core.
In this candid interview, conducted in 1997, Wisniewski looks on his own life, and on his generation's revolt, including the lessons of the RAF, while honestly grappling with the errors committed during its history of armed struggle against imperialism.
Stefan Wisniewski was captured in 1978 and spent twenty-one years in West German prisons for his participation in the RAF's struggle against western imperialism. This interview was conducted by Petra Groll and Juergen Gottschlich of taz newspaper in 1997, and appears here for the first time in english, translated by André Moncourt and J. Smith.
Be sure to check out the other titles from our friends at Kersplebedeb.