---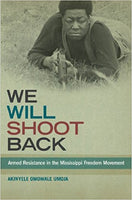 by Akinyele Omowale Umoja
New York University Press
8/22/2014, paperback
SKU: 9781479886036
In We Will Shoot Back: Armed Resistance in the Mississippi Freedom Movement, Akinyele Omowale Umoja argues that armed resistance was critical to the Southern freedom struggle and the dismantling of segregation and Black disenfranchisement. Intimidation and fear were central to the system of oppression in most of the Deep South. To overcome the system of segregation, Black people had to overcome fear to present a significant challenge to White domination. As the civil rights movement developed, armed self-defense and resistance became a significant means by which the descendants of enslaved Africans overturned fear and intimidation and developed different political and social relationships between Black and White Mississippians.
This riveting historical narrative reconstructs the armed resistance of Black activists, their challenge of racist terrorism, and their fight for human rights.
Winner of the 2014 Anna Julia Cooper-CLR James Book Award presented by the National Council of Black Studies Winner of the 2014 PEN Oakland-Josephine Miles Award for Excellence in Literature
Reviews:
"Timely and timeless. . . . Expands our understanding of the hidden narratives of Mississippi's black armed resistance groups scattered through generations." - Kathleen Cleaver, Senior Lecturer and Research Fellow, Emory Law School
"Ranging from Reconstruction to the Black Power period, this thoroughly and creatively researched book effectively challenges long-held beliefs about the Black Freedom Struggle. It should make it abundantly clear that the violence/nonviolence dichotomy is too simple to capture the thinking of Black Southerners about the forms of effective resistance." - Charles M. Payne, Frank P. Hixon Distinguished Service Professor, University of Chicago
About the Author:
Akinyele Omowale Umoja is Professor and Chair of the Department of African-American studies at Georgia State University, where he teaches courses on the history of the civil rights and Black Power movements and other social movements. He has been a community activist for over 40 years.