---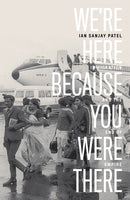 by Ian Sanjay Patel
Verso
04/13/2021, hardcover
SKU: 9781788737678
What are the origins of the hostile environment for immigrants in Britain?
Drawing on new archival material from the Foreign and Commonwealth Office, Ian Sanjay Patel retells Britain's recent history in an often shocking account of state racism that still resonates today. In a series of post-war immigration laws, Britain's colonial and Commonwealth citizens from the Caribbean, Asia and Africa were renamed immigrants. In the late 1960s, British officials drew upon an imperial vision of the world to contain what it saw as a vast immigration 'crisis' involving British citizens, passing legislation to block their entry. As a result, British citizenship itself was redefined along racial lines, fatally compromising the Commonwealth and exposing the limits of Britain's influence in world politics. Combining voices of so-called immigrants trying to make a home in Britain and the politicians, diplomats and commentators who were rethinking the nation, Ian Sanjay Patel excavates the reasons why Britain failed to create a post-imperial national identity.
The reactions of the British state to post-war immigration reflected the shift in world politics from empires to decolonization. Despite a new international recognition of racial equality, Britain's colonial and Commonwealth citizens were subject to a new regime of immigration control based on race. From the Windrush generation who came to Britain from the Caribbean to the South Asians who were forced to migrate from East Africa, Britain was caught between attempting both to restrict the rights of its non-white colonial and Commonwealth citizens and redefine its imperial role in the world. Despite Britain's desire to join Europe, which eventually occurred in 1973, its post-imperial moment never arrived, subject to endless deferral and reinvention.
Reviews:
"Combining startling new research with a clear and convincing argument, this shows just how essential the history of migration and race is to understanding Britain today." -- Daniel Trilling, author of Lights in the Distance
"Patel provides some much-needed context for one of the world's most contentious and vexed subjects of debate: immigration. From the legal architecture designed to make life impossible for foreigners both a century ago and today, to the hypocrisies of British officials bent on shutting out those forced from their homes, Patel succinctly and eloquently explains the long-lasting consequences of empire: how countless lives were irrevocably altered by mandarins in Whitehall offices, and the related suffering that continues into the present day." -- Dr Shashi Tharoor, author of Inglorious Empire: What the British Did to India
"Patel provides an indispensable and urgently relevant account of immigration and the end of empire that reveals the mirage-like quality of the very concepts through which we typically understand postwar Britain. Situating the arrival of nonwhite people in Britain in an intra-imperial context, this bravely and innovatively wide-ranging account shows that neither were they immigrants, nor was Britain ending empire. Their arrival was a phenomenon of continuity rather than a dramatic break with the past. With a compassionate authorial voice, Patel captures the trauma of unbelonging and of racist gatekeeping of the planet against a backdrop of continuous, untrammeled British emigration. This carefully researched book is testimony to history's astonishing power to change how we understand the world we inhabit by dispelling the myths that obscure truth." -- Priya Satia, Raymond A. Spruance Professor of International History at Stanford University and author of Time's Monster: History, Conscience and Britain's Empire
About the Author:
Ian Sanjay Patel is currently LSE Fellow in Human Rights at the London School of Economics. His non-fiction writing has appeared in the New Statesman, the London Review of Books, and elsewhere. Born in London, he completed his PhD at Queens' College, University of Cambridge.