---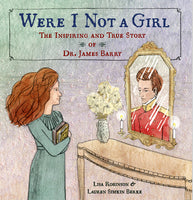 by Lisa Robinson, Illustrated by Lauren Simkin Berke
Schwartz & Wade Books
10/20/2020, hardcover
SKU: 9781984849052
This unique picture book biography tells the story of Dr. James Barry, born female, who lived as a man from age 18 to his death.
Like other girls of her time, Margaret Bulkley didn't go to school. She wouldn't grow up to own property, be a soldier, a doctor, or hold any job other than perhaps maid or governor--such was a girl's lot in 19th century England. And was she comfortable born in a girl's body? We will never know. What we do know is that at the age of 18, she tugged off her stockings and dress, cut her red-gold curls, and vanished. In her place appeared a young man. Margaret became James Barry. James would attend medical school, become a doctor and a soldier, travel the world. He would fall in love, deliver babies, and fight in a duel. And he would live a rich full life.
Here is a picure book that is both a fascinating and sensitively drawn portrait of someone who would not be undervalued, and an important introduction to the concept of gender identity.

Target age: 4 to 8
About the Contributors:
Lisa Robinson's first picture book for Schwartz & Wade, due out in March 2020, is Madame Saqui: Revolutionary Rope Dancer. Born in Uganda to two Peace Corp volunteers who would eventually become world-traveling diplomats, Lisa has lived all over the world, including Seattle, Dakar, London, and Moscow. In addition to writing, she works as a psychotherapist.
Lauren Simkin Berke is an award-winning illustrator, working with clients such as the New York Times, Smithsonian magazine, and Southern Poverty Law Center's Teaching Tolerance. Berke's artwork has graced covers of books such as Katie Rain Hill's Rethinking Normal, the Paris Review's The Writer's Chapbook, and the first edition of Susan Stryker's Transgender History. This is their first picture book.