---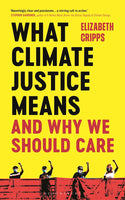 by Elizabeth Cripps
Bloomsbury Continuum
4/12/2022, paperback
SKU: 9781472991812
We owe it to our fellow humans - and other species - to save them from the catastrophic harm caused by climate change.
Philosopher Elizabeth Cripps approaches climate justice not just as an abstract idea but as something that should motivate us all. Using clear reasoning and poignant examples, starting from irrefutable science and uncontroversial moral rules, she explores our obligations to each other and to the non-human world, unravels the legacy of colonialism and entrenched racism, and makes the case for immediate action.
The second half of the book looks at solutions. Who should pay the bill for climate action? Who must have a say? How can we hold multinational companies, organisations - even nations - to account? Cripps argues powerfully that climate justice goes beyond political polarization. Climate activism is a moral duty, not a political choice.
Reviews:
"This book is a short and direct conversation with a philosopher carefully thinking through our duties now toward other people given the scary changes we all may face. While it may be painful reading at times, you will gain insights not available in any other book about climate change. The subtle analysis does not stifle the passion, and the deep feeling does not cloud the arguments. A moving philosophical plea for immediate radical action with the reasons distilled to their essence. If you wonder where to begin to tackle the worsening climate, start here." -- Professor Henry Shue, Merton College, Oxford. Senior Research Fellow, Centre for International Studies, DPIR
"An essential primer. Elizabeth Cripps deftly explains the complexity of wicked problems without ever losing sight of the fundamental truth that, before it is a technical or political issue, climate injustice is a moral one." -- Professor David Farrier, Chair in Literature and the Environment, University of Edinburgh
"Cripps successfully argues her central point: Climate policies won't succeed if climate justice isn't at their forefront ... Cripps' argument, a timely update to former President of Ireland Mary Robinson's earlier linking together of climate justice and human rights ... makes fine, inspirational reading." - NPR.com
About the Author:
Elizabeth Cripps is a senior lecturer at the University of Edinburgh and the author of Climate Change and the Moral Agent. A moral philosopher with a focus on climate ethics and justice, she has written for Scotland's The Herald and been interviewed on Radio 4. As a former journalist, she worked for the Financial Times group and freelanced for the Guardian.