---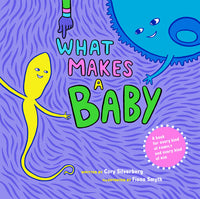 by Cory Silverberg, Illustrated by Fiona Smyth
Triangle Square
5/7/2013, hardcover
SKU: 9781609804855
Geared to readers from preschool to age eight, What Makes a Baby is a book for every kind of family and every kind of kid. It is a twenty-first century children's picture book about conception, gestation, and birth, which reflects the reality of our modern time by being inclusive of all kinds of kids, adults, and families, regardless of how many people were involved, their orientation, gender and other identity, or family composition. Just as important, the story doesn't gender people or body parts, so most parents and families will find that it leaves room for them to educate their child without having to erase their own experience.
Written by sexuality educator Cory Silverberg, and illustrated by award-winning Canadian artist Fiona Smyth, What Makes a Baby is as fun to look at as it is useful to read.
Reviews:
The playful illustrations and simple but intelligent text illuminate the basic biology of reproduction while honoring today's diversity of families, of genders and gender identities, and of how kids can come into a family. --Maria Popova, Brain Pickings
What Makes a Baby aims to be just about the most inclusive sex ed book for kids you've ever come across[...] it has none of this mommy and daddy love each other and he watered her flower with his watering can and then a baby was born stuff; What Makes a Baby is for kids around four to eight years of age, teaching them about conception, gestation, and birth using really specific language. --Jezebel
About the Author:
Raised by a children's librarian and a sex therapist, Cory Silverberg grew up to be a sexuality educator and writer. He received his Masters of Education from the University of Toronto, and was a founding member of the Come As You Are Co-operative. He teaches across North America on topics including sexual communication, sexuality and disability, technology, access, and inclusion. Cory is the Sexuality Guide for About.com and the co-author of The Ultimate Guide to Sex and Disability with Miriam Kaufman and Fran Odette. What Makes a Baby is the first book in a series of kid's books Cory is writing for Seven Stories Press about sexuality, sexual health, and gender. He has eight nephews and nieces, all of whom know where babies come from.
Fiona Smyth is a Toronto-based painter, illustrator, and cartoonist. Her first graphic novel, The Never Weres, was published by Annick Press in 2011. Fiona's comic Cheez was published in Exclaim! magazine for almost ten years, and her comic Fazooz was in Vice for eight years. Fiona teaches illustration and comics at OCAD U in Toronto.