---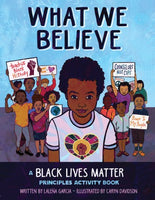 by Laleña Garcia, Illustrated by Caryn Davidson
Lee & Low Books
10/27/2020, paperback
SKU: 9781643794778
This powerful activity book will engage hands, hearts, and minds as it introduces children to the guiding principles of the Black Lives Matter movement.
When the Black Lives Matter movement began in 2013, the three founders--Alicia Garza, Patrisse Khan-Cullors, and Opal Tometi--anchored its work in a list of guiding principles, developed through conversation with other activists. These principles commit the movement to empathy, loving engagement, and just action among its participants; affirm the importance of Black women, families, elders, and LGBTQ folk; and celebrate the strength and diversity of Black people in their communities and around the globe.
Now young people can explore these powerful principles in What We Believe: A Black Lives Matter Principles Activity Book. Created by two teachers with more than thirty-five years of educational experience between them, the book presents the guiding principles in down-to-earth, child-friendly language, with each principle accompanied by writing prompts, space for children or adults to create their own reflections, and a coloring page. Supporting materials guide adults in sharing the principles with children and encourage kids to dream big and take action within their communities. An essential resource for anyone discussing racial equity with young people, What We Believe offers a beautiful and inspiring lens on the most important social justice movement of our time.
Target age: 4 to 9
About the Contributors:
Laleña Garcia has taught in New York City early childhood education programs for more than twenty years. What We Believe grew out of her work with Black Lives Matter in Schools, a teachers' organization striving for racial equity in education, and she has presented at local and national conferences on teaching the principles of the BLM movement to children. A graduate of Yale University and the Bank Street College of Education, she lives in Brooklyn, NY. 
Caryn Davidson studied Anthropology and Visual Art at Brown University and received her MS in arts education from NYU. In a sixteen-year career in education, she founded and developed the arts programs at three public schools in New York City and also led initiatives to promote culturally relevant pedagogy and socially just practices within those school communities. She now teaches art at the high school level in Brooklyn, NY, where she also lives.