---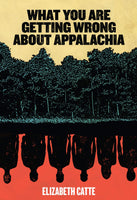 by Elizabeth Catte
Belt Publishing
2/06/2018, paperback
SKU: 9780998904146
In 2016, headlines declared Appalachia ground zero for America's "forgotten tribe" of white working class voters. Journalists flocked to the region to extract sympathetic profiles of families devastated by poverty, abandoned by establishment politics, and eager to consume cheap campaign promises. What You Are Getting Wrong About Appalachia is a frank assessment of America's recent fascination with the people and problems of the region. The book analyzes trends in contemporary writing on Appalachia, presents a brief history of Appalachia with an eye toward unpacking Appalachian stereotypes, and provides examples of writing, art, and policy created by Appalachians as opposed to for Appalachians. The book offers a must-needed insider's perspective on the region.
Reviews:
"Fiercely argued and solidly grounded, this an excellent primer on understanding and resisting the common distortions about Appalachia's past and present." -- Anthony Harkins, author, Hillbilly: A Cultural History of an American Icon
"... the most damning critique of Hillbilly Elegy." -- Nancy Isenberg, New York Review of Books
"You couldn't kill this book with a hammer. Come and watch Elizabeth Catte clip the hollow wings of little Jimmy Vance. Stay and behold an enlightened vision, a living solidarity found among the strong and varied peoples of this misunderstood land. What You Are Getting Wrong About Appalachia asks Florence Reece's old question: Which side are you on? Some of us are sticking to Appalachia until every battle's won." -- Glenn Taylor, author, The Ballad of Trenchmount Taggart
About the Author:
Elizabeth Catte is a writer and historian from East Tennessee. She holds a PhD in public history from Middle Tennessee State University and is the co-owner of Passel, a historical consulting and development company.