---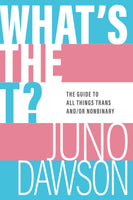 by Juno Dawson
Sourcebooks
6/7/2022, paperback
SKU: 9781728254036
Discover what it means to be a young transgender and/or non-binary person in the twenty-first century in this candid and funny guide for teens from the bestselling author of This Book is Gay.
In What's the T? Stonewall ambassador and bestselling author Juno Dawson is back again, this time with everything you've wanted to know about labels and identities and offering uncensored advice on coming out, sex, and relationships with her trademark humor and lightness of touch. It is informative, helpful, optimistic, and funny but with a good dose of reality and some of the things that can downright suck too.
The companion title to the groundbreaking This Book Is Gay, What's the T? tackles the complex realities of growing up trans with honesty and humor and is joyfully illustrated by gender non-conforming artist Soofiya.
This book is for:
Anyone with questions
Parents of trans and/or non-binary kids
Educators looking for advice about the transgender community
Reviews:
"What's the T? discusses a range of topics that fall under the transgender and nonbinary umbrella with honesty, a few jokes, and an abundance of grace." -- Foreword Reviews

"In the irreverent voice of an occasionally profane favorite aunt, Dawson, a transgender woman, talks about her coming out process before presenting a comprehensive introduction to all things transgender... [a] humorous, eye-opening presentation." -- The Horn Book Guide
About the Author:
Juno Dawson is the international bestselling author of fiction and nonfiction for young adults. She is a columnist for Attitude magazine and a key LGBTQ+ activist with the charity Stonewall. A former teacher specializing in behavior studies, Juno now writes full time and lives in Brighton, England.