---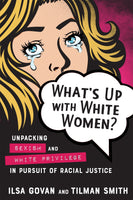 by Ilsa Govan and Tilman Smith
New Society Publishers
10/19/2021, paperback
SKU: 9780865719613
As a white woman, ask yourself: are you upholding or fighting racism?
What's Up with White Women? is a practical guide for white women who are interested in becoming more effective in their cross-cultural, anti-racist practices.
Blending real-life stories, theory, and anti-racism practices from decades of on-the-ground work, the authors invite white women to understand their gendered role in systemic racism and their unique opportunity for action. Both frank and compassionate, coverage includes:
Stories of white women's experiences with sexism, racism, and white privilege
How white women harm BIPOC and ourselves by colluding with systems of oppression
Why and how white women often hijack race conversations
A powerful six-stage identity development model for self-reflection and growth
Guiding questions and practical actions for strengthening anti-racism practices
Tools to cultivate genuine partnerships with BIPOC individuals and groups.
White women are positioned in a power hierarchy between white men and BIPOC. It is time for white women to step up and undertake deep reflection on their role in systemic racism and take concrete actions that support equity and justice for all people.
Reviews:
"I always appreciate it when white women tell other white women about being white women. This book does not disappoint. Reading through the developmental process leading from Immersion to Integration, I saw decades of my interactions with white women finally making sense! The stories, histories, examples, and experiences that Govan and Smith provide are both personal, painful, and enlightening. This book offers a timely opportunity for white women to learn more about themselves as they work toward the Integration of their race and gender intersections." -- Dr. Debra Ren-Etta Sullivan, Seattle Black Child Development Institute
"White women are both bulwarks in maintaining white supremacy and leaders of resistance to it. This book is an insightful, provocative, and practical guide to the range of ways white women respond to the intersection of gender and race. With nuance, and attention to complexity, Govan and Smith do an excellent job of teasing apart the many roles that white women play in our communities and offer them a challenge to examine the complicated impact of gender and race in their lives. Filled with poignant, powerful, and honest stories, this book offers a toolkit for white women to become more effective racial justice allies. Highly recommended." -- Paul Kivel, educator, activist, author, Uprooting Racism: How White People Can Work for Racial Justice
About the Authors:
Tilman Smith has been an educator, project manager, and racial justice consultant for over thirty-five years, serving as a classroom teacher, college instructor, caucus facilitator, trainer, and coach. She has facilitated workshops and caucuses throughout the country on the topics of racial equity, white privilege, internalized sexism, and internalized white superiority. She lives in Seattle, Washington.
Ilsa Govan has extensive experience as an anti-racist facilitator, consultant, leadership coach, and activist. As co-founder of Cultures Connecting, she has helped countless organizations put their vision of racial equity into practice. Her facilitation superpower is guiding white people in examining how we've internalized racism in our assumptions and actions. She lives in Seattle, Washington.