---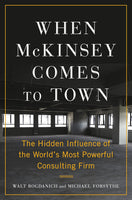 by Walt Bogdanich and Michael Forsynthe
Doubleday Books
10/04/2022, hardcover
SKU: 9780385546232
An explosive, deeply reported exposé of McKinsey & Company, the international consulting firm that advises corporations and governments, that highlights the often drastic impact of its work on employees and citizens around the world
McKinsey & Company is the most prestigious consulting company in the world, earning billions of dollars in fees from major corporations and governments who turn to it to maximize their profits and enhance efficiency. McKinsey's vaunted statement of values asserts that its role is to make the world a better place, and its reputation for excellence and discretion attracts top talent from universities around the world. But what does it actually do?
In When McKinsey Comes to Town, two prizewinning investigative journalists have written a portrait of the company sharply at odds with its public image. Often McKinsey's advice boils down to major cost-cutting, including layoffs and maintenance reductions, to drive up short-term profits, thereby boosting a company's stock price and the wealth of its executives who hire it, at the expense of workers and safety measures. McKinsey collects millions of dollars advising government agencies that also regulate McKinsey's corporate clients. And the firm frequently advises competitors in the same industries, but denies that this presents any conflict of interest.
In one telling example, McKinsey advised a Chinese engineering company allied with the communist government which constructed artificial islands, now used as staging grounds for the Chinese Navy--while at the same time taking tens of millions of dollars from the Pentagon, whose chief aim is to counter Chinese aggression.
Shielded by NDAs, McKinsey has escaped public scrutiny despite its role in advising tobacco and vaping companies, purveyors of opioids, repressive governments, and oil companies. McKinsey helped insurance companies' boost their profits by making it incredibly difficult for accident victims to get payments; worked its U.S. government contacts to let Wall Street firms evade scrutiny; enabled corruption in developing countries such as South Africa; undermined health-care programs in states across the country. And much more.
Bogdanich and Forsythe have penetrated the veil of secrecy surrounding McKinsey by conducting hundreds of interviews, obtaining tens of thousands of revelatory documents, and following rule #1 of investigative reporting: Follow the money. When McKinsey Comes to Town is a landmark work of investigative reporting that amounts to a devastating portrait of a firm whose work has often made the world more unequal, more corrupt, and more dangerous.
Reviews:

"Two of the finest investigative reporters in the business got behind the wall of secrecy erected by one the world's most influential companies. When McKinsey Comes to Town is a revelatory - and disturbing - portrait of a powerful firm whose vaunted reputation is belied by its actions." -- Jane Mayer, New York Times bestselling author of The Dark Side and Dark Money
"Bogdanich and Forsythe show how McKinsey, rather than optimizing social welfare, optimizes corporate profits and greed. In doing so the Firm has become a super spreader of corporate misdeed and contributed to America's growing inequality problem. Hypocrisy, avarice, ridiculous power points, aiding and abetting the world's polluters and drug companies. Every page made my blood boil as I read about McKinsey's flawed reasoning and the vast profits made from ethically dubious work for governments, polluting companies and big pharma." -- Joseph E. Stiglitz, University Professor, Columbia University
"Bogdanich and Forsythe peel back the layers of secrecy surrounding management consulting firm McKinsey & Co. in this revelatory and often shocking account. Drawing on interviews with 'nearly one hundred current and former McKinsey employees,' as well as client and billing records, the authors uncover a devastating pattern of harm caused by greed, conflicts of interest, and unethical behavior.... Scrupulously documented and fluidly written, this is a jaw-dropping feat of investigative journalism." -- Publishers Weekly
About the Authors:
Walt Bogdanich is an investigative reporter for The New York Times. He has been awarded three Pulitzer Prizes for his investigative journalism. He previously produced stories for "60 Minutes," ABC News and The Wall Street Journal in New York and Washington. He has a B.A. in political science from the University of Wisconsin and a master's degree in journalism from Ohio State University. He lives in Port Washington, NY.
Michael Forsynthe is an investigative reporter for The New York Times. At Bloomberg was part of a team that won the George Polk Award in 2013. Mr. Forsythe is a veteran of the U.S. Navy. He has a B.A. in international economics from Georgetown University and a Master's degree in East Asian Studies from Harvard University. He lives in New York City.