---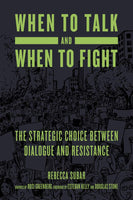 by Rebecca Subar
PM Press
8/24/2021, paperback
SKU: 9781629638362
When to Talk and When to Fight is a conversation between talkers and fighters. It introduces a new language to enable negotiators and activists to argue and collaborate across different schools of thought and action. Weaving beautiful storytelling and clear analysis, this book maps the habits of change-makers, explaining why some groups choose dialogue and negotiation while others practice confrontation and resistance. Why do some groups seemingly always take an antagonistic approach, challenging authority and in some cases trying to tear down our systems and institutions? Why are other groups reluctant to raise their voices or take a stand, limiting themselves to conciliatory strategies? And why do some of us ask only the first question, while others ask only the second?
Threaded among examples of conflict, struggle, and change in organizations, communities, and society is the compelling personal story that led Subar to her community of practice at Dragonfly, advising leaders in social justice organizations on organizational and advocacy strategy. With lucid charts and graphs by Rosi Greenberg, When to Talk and When to Fight is a brilliant new way of talking about how we change the world. In his foreword, Douglas Stone, coauthor of the international best-seller Difficult Conversations, makes the case that negotiators need this language. In a separate forward, Esteban Kelly, cofounder of AORTA Anti-Oppression Resource and Training Alliance, explains why radicals and progressives need it. If you are a change-maker, you will soon find yourself speaking this language. Be one of the first to learn it. Read this book.
Reviews:
"Rebecca Subar's book is a powerful and important exploration of the tensions between challenging unjust centers of power and negotiating our terms of victory. This book has forced me to ask tough questions about both the social justice strategies I am comfortable with--and the strategies I need to get more comfortable with to be the most effective human rights advocate possible."
--Sunjeev Bery, Executive Director, Freedom Forward
"In When to Talk and When to Fight, Subar argues against black-and-white binaries and promotes the validity of different strategies depending on the mix of personal and community styles, principles and values, structural obstacles and biases, and the power dynamics between the opposing parties in a constantly churning and contradictory society. Subar's style is engaging and challenging, a smart 'how-to' book that is grounded in a deep personal understanding of social struggle and political advocacy."
--Alice Rothchild, author of Condition Critical: Life and Death in Israel/Palestine
About the Contributors:
Rebecca Subar has taught peace and conflict studies at West Chester University since 2005. She is a senior partner at Dragonfly, where a multiracial band of consultants supports organizations that make social change. She has coached leaders of political advocacy groups large and small on their race consciousness, their organization's growth, and their strategy for changing the world.
Rosi Greenberg is a graphic facilitator and leadership trainer. She holds a master's in public policy from Harvard's Kennedy School and works with C-suite executives, community organizers, nonprofits, philanthropists, youth groups, political campaigns, and more, helping them to connect deeply and make creative, systemic change.
Esteban Kelly is the executive director for the US Federation of Worker Cooperatives and a founding member in AORTA, a worker-owned co-op whose facilitation supports organizations fighting for social justice and a solidarity economy. He received a Social Innovation Award for Public Policy and is an advisor to the Movement for Black Lives policy table.
Douglas Stone has taught negotiation and conflict management at Harvard Law School since 1993. He is a coauthor of two New York Times best sellers, Difficult Conversations and Thanks for the Feedback, and consults around the world on topics of communication, mediation, and leadership. Projects have included work with journalists and mediators in South Africa, doctors at the World Health Organization, and leaders of the US Departments of State, Justice, and Defense.