---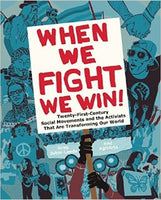 by Greg Jobin-Leeds and AgitArte
New Press
2016, paperback
SKU: 9781620970935
Same-sex marriage, #BlackLivesMatter, the Dream Act, the People's Climate March, End the New Jim Crow, Occupy Wall Street - these are just a few of the initiatives that have taken flight in the past decade, the most fertile and productive era of activism and reform this country has seen since the 1960s.
Now, in a visually rich and deeply inspiring book, movement leaders and activists distill their wisdom, sharing lessons of what works and what hinders transformative social change. Weaving together interviews with today's most successful activists - from Bill McKibben and Clayton Thomas Muller to Karen Lewis, Rinku Sen, Ai-jen Poo, Favianna Rodriguez, Rea Carey, Gaby Pacheco, Patrice Collins, and more - with narrative recountings of strategies and campaigns alongside full-color photos and an afterword by Antonia Darder, social activist Greg Jobin-Leeds joins forces with AgitArte, an organization of artists and organizers, to document the stories, philosophy, tactics, and art of today's leading social change movements.
Beautifully packaged in a wonderfully affordable paperback edition, When We Fight, We Win! will allow a whole generation of readers to celebrate and benefit from a remarkable decade of activism and reform.
About the Authors:
Greg Jobin-Leeds is co-chair of the Schott Foundation for Public Education. He has helped launch many high-impact social change organizations and lives in Cambridge, Massachusetts.
Deymirie Hernandez, Jose Jorge Diaz, and Jose Primo Hernandez are members of AgitArte, an artist and organizing collective that facilitates projects of cultural solidarity with workers and marginalized communities that is based in San Juan, Puerto Rico, and Boston, Massachusetts.